Turquoise is one of December's birthstones — the other December birthstone is tanzanite — and today's designers are taking the robin's-egg blue stone out of the southwest and into contemporary jewelry. Some designers look for clean turquoise without any visible matrix (remnants of the rock it was mined from, which can look like veins), while others embrace the natural look of the matrix and its organic feel. Collectors prize turquoise from the now-closed Sleeping Beauty mine in Arizona, which has a rare, vivid hue and no matrix. Designer Laura Stephanie says, "The formation of this stone and its pure blue coloration is a geological miracle. The blue color has been traced to a large copper deposit at the mountain it is mined from." Our selection of the most beautiful turquoise necklaces, earrings, bracelets, and rings shows the versatility of this unique gemstone. 
John Hardy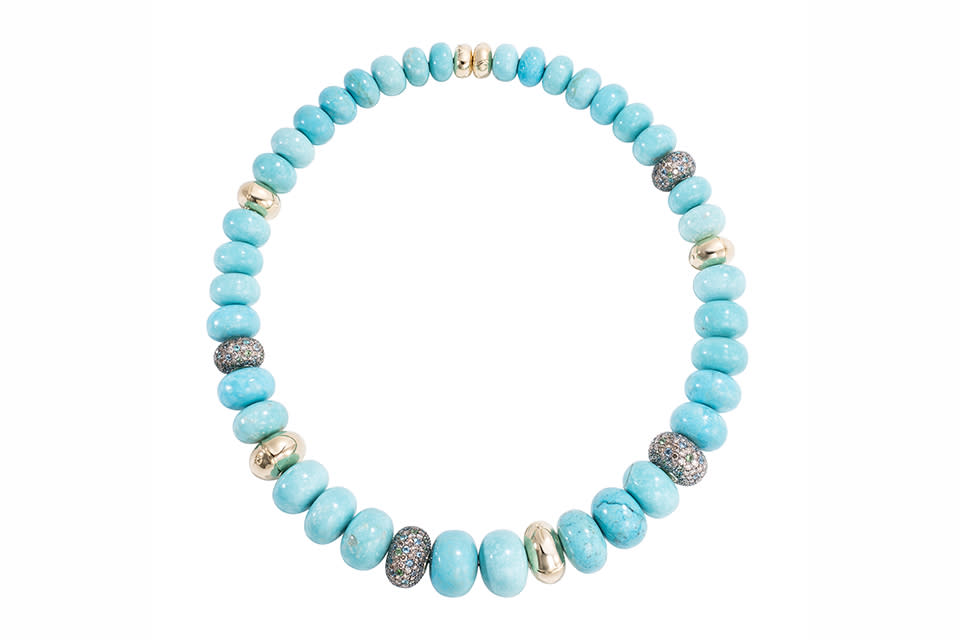 JOHN HARDY
John Hardy's Cinta collection features one-of-a-kind pieces designed around exquisite stones, in this case, nearly 600 carats of Sleeping Beauty turquoise. The large turquoise beads are interspersed with gold and gemstone-set beads. 
John Hardy Cinta Bamboo Ayung necklace in 18K yellow gold with 595 carats Sleeping Beauty turquoise, 9.72 carats brown diamond, 4.45 carats blue topaz, 1.82 carats tsavorite, and .74 carats Paraíba tourmaline, price on request, johnhardy.com
Lydia Courteille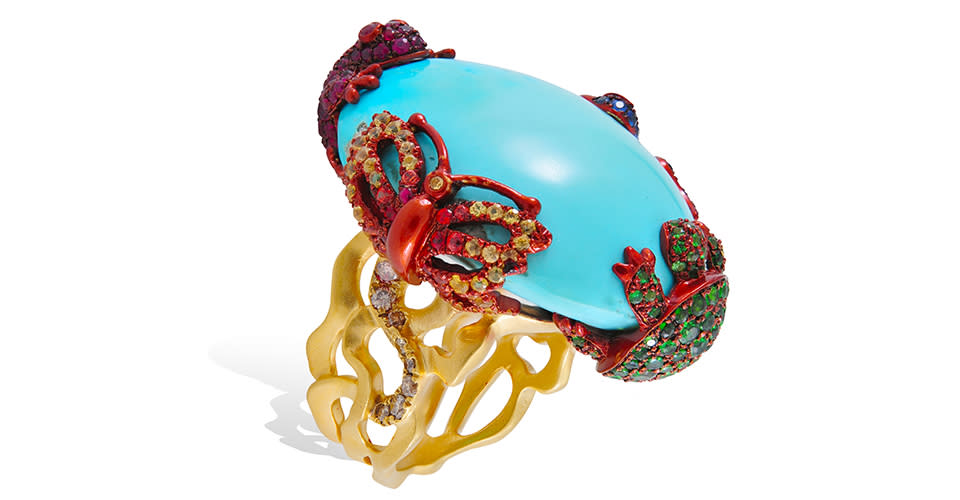 LYDIA COURTEILLE
Lydia Courteille Rainbow Warrior ring in 18K yellow gold with turquoise, brown diamond, and fancy sapphire, price on request, lydiacourteille.com
Boucheron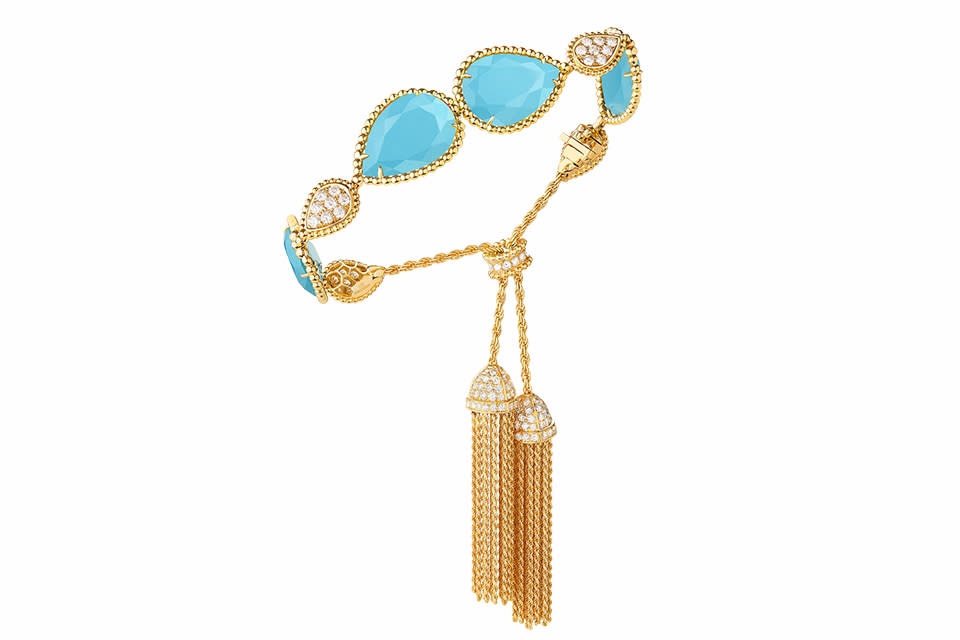 BOUCHERON
Legendary French jewelry house Boucheron combines two iconic collections, Pompom and Serpent Bohème, in this elegant bracelet. It features drops of pavé diamonds and faceted turquoise and has two long and delicate gold tassels, or pompoms, that hang from the crook of the wrist for some Parisian glamour.  
Boucheron Serpent Bohème Pompon bracelet in 18K yellow gold with 4.65 carats turquoise and 3.52 carats diamond, $45,100, boucheron.com
Mish Fine Jewelry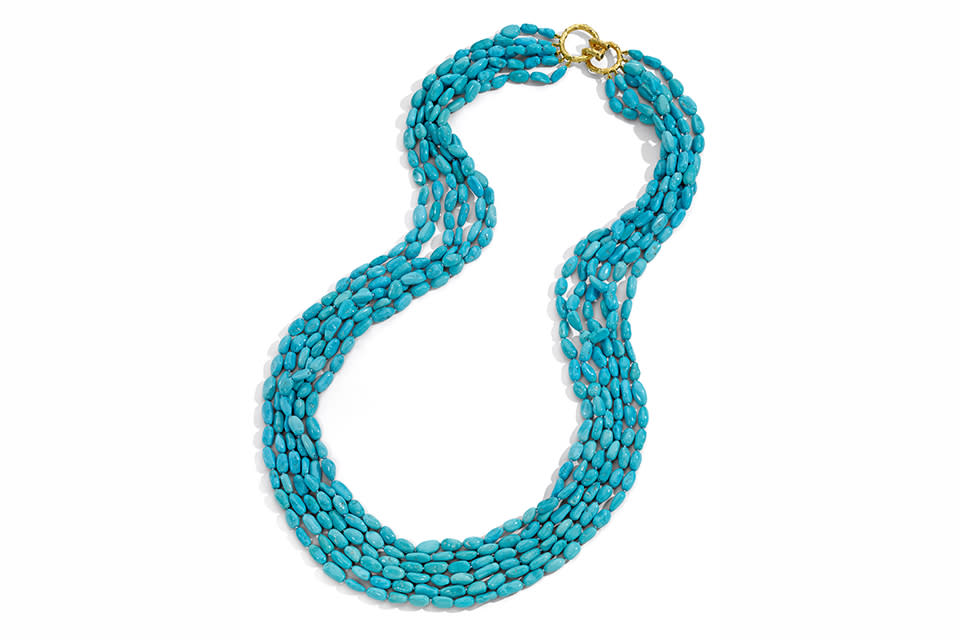 MISH
New York designer Mish's Waterfall necklaces feature beads of colored gemstones — in this case, a staggering 320 grams of Sleeping Beauty turquoise. It takes months to source this number of matching stones and to knot each of the six strands. Every necklace features his signature 18K gold Twig closure. 
Mish Fine Jewelry Turquoise Nugget Waterfall necklace in 18K gold with 320 grams turquoise and brown diamond, price on request, mishnewyork.com
Laura Stephanie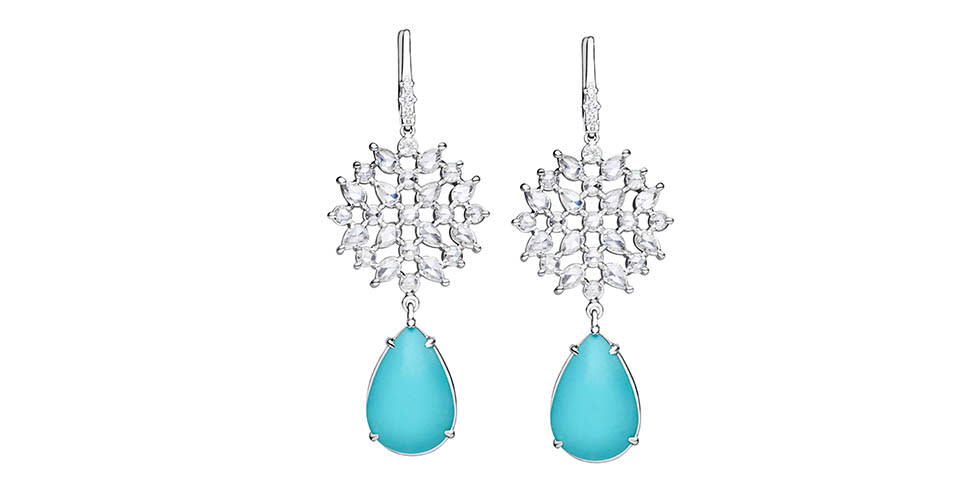 LAURA STEPHANIE
Washington, DC-based designer Laura Stephanie has a personal attachment to Sleeping Beauty turquoise, after a trip to the Sedona desert with her sisters inspired a deep love of the landscape and energy. The Sierra earrings feature two very large and well-matched stones from the Sleeping Beauty mine. 
Laura Stephanie Sierra earrings in 14K white gold with 17.09 carats Sleeping Beauty turquoise and 3.68 carats diamond, $32,600, laurastephanie.com
Sorellina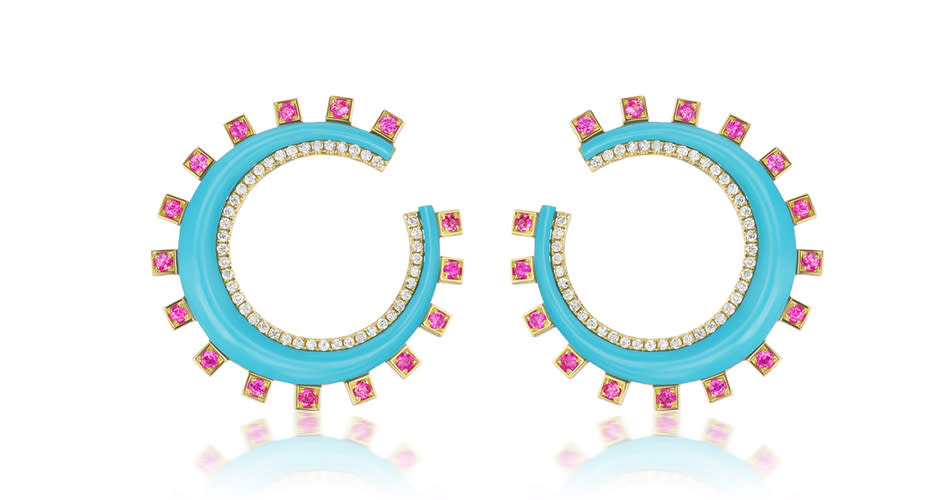 SORELLINA
In the Monroe collection, Sorellina inlays carved stones in geometric shapes and surrounds them with precious gemstones. The Cresent earrings have a unique loo, with round pink sapphires in square gold settings studding the outside. 
Sorellina Monroe Crescent earrings in 18K gold with turquoise, .60 carats pink sapphire, and .60 carats diamond, $6,000, sorellinanyc.com
Bulgari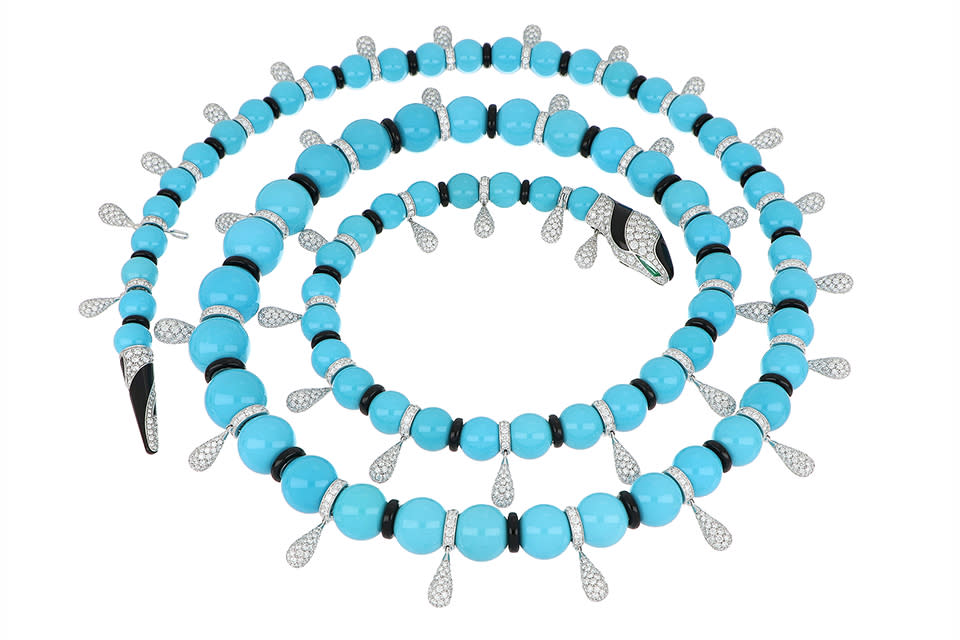 BULGARI
Italian jewelry house Bulgari is known for its exuberant jewelry featuring dazzling colored gemstones, as well as its iconic Serpenti collection. This modern interpretation of the iconic snake features 77 smooth turquoise beads separated by onyx inserts and diamond-set drops. The serpent's head has a green, emerald eye. 
Bulgari Serpenti high-jewelry necklace in 18K white gold with 77 turquoise beads, onyx, emerald, and diamond, price on request, bulgari.com 
Temple St Clair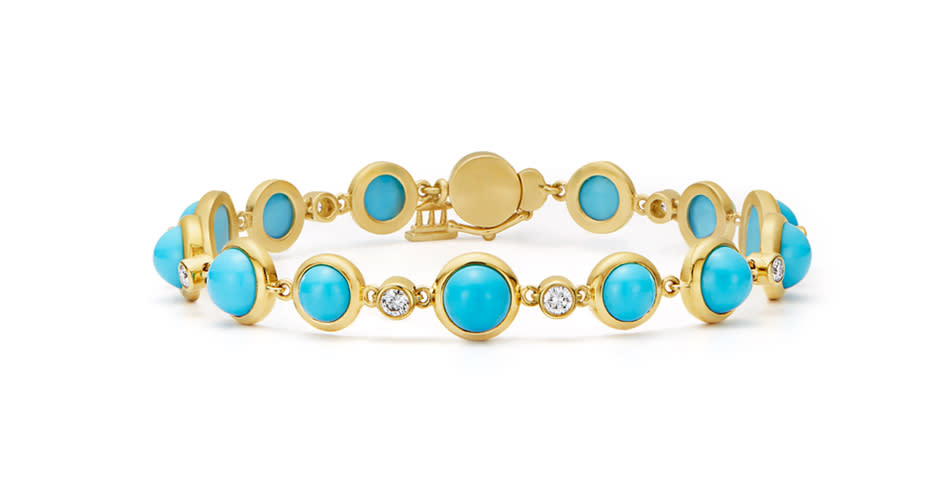 TEMPLE ST CLAIR
New York-based designer Temple St Clair handcrafts each piece of jewelry in her atelier Florence, Italy, where she works with the best goldsmiths. This bracelet is simple and elegant, alternating turquoise cabochons with round diamonds. 
Temple St Clair Single Round bracelet in 18K gold with 18.2 carats turquoise and .59 carats diamond, $6,750, templestclair.com 
NeverNoT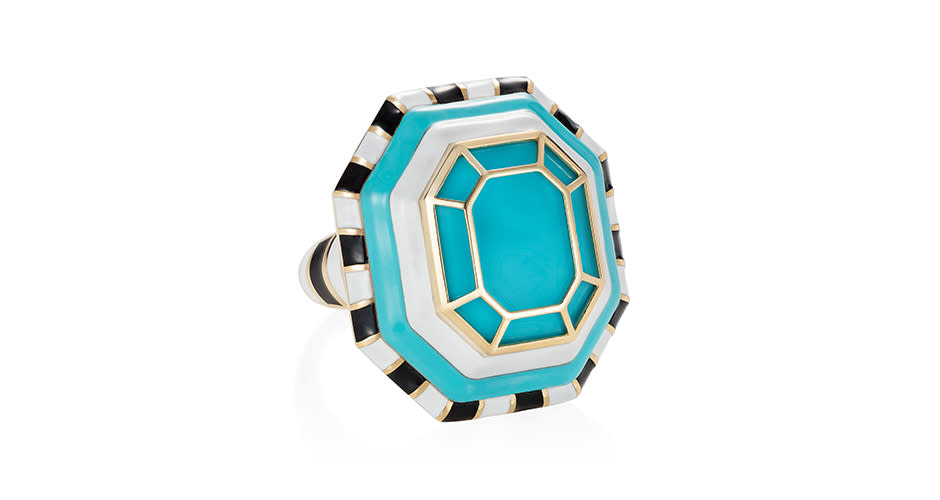 NeverNoT
NeverNoT's cocktail ring features a turquoise central stone surrounded with white, black, gold, and turquoise enamel. The designers wanted to make an easy piece that can be worn every day, but still features precious materials. 
NeverNoT Grab n Go ring in 18K yellow gold with turquoise and enamel, $5,880, nevernot.co.uk