This ancient métiers d'art produces absolutely stunning watch dials.
One of the most popular métiers d'art in luxury timepieces is guilloché. Guilloché is the French term for a decorative pattern that is engraved on a surface. In fact, it has been used in many different industries, including on Fabergé's famous imperial eggs. In watchmaking, artisans decorate dials and movement components with intricate engravings using techniques that haven't changed for centuries. These circular or linear patterns feature grids of straight, curved, or broken lines.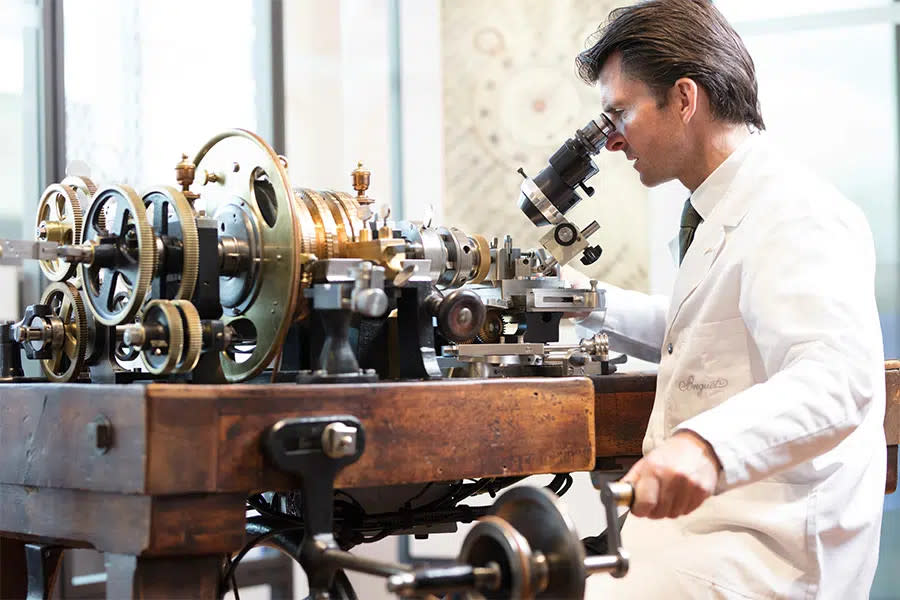 BREGUET
Guilloché dates to the late 1700s in watchmaking when it was first used by Abraham-Louis Breguet. Since then, a guilloché dial has become a hallmark of many watch brands to showcase their artisans' expertise and their dedication to keeping ancient techniques alive. Even today, artisans use a traditional rose or straight-line engine, which is also called a lathe. This historic engraving machine, also referred to as engine-turning, is powered by hand. An artisan uses their left hand to turn the handle that powers the machine while simultaneously using their right hand to move the chisel that creates the pattern. New machines can automatically create similar designs today, but many of the best watch brands still create guilloché patterns by hand. 
There are many different types of guilloché motifs, including sunburst, Clous de Paris (hobnail), Tapisserie, basketweave, and barleycorn. While guilloché dials can be extremely elegant, they're not only reserved for dress watches. In fact, Audemars Piguet famously uses the Tapisserie guilloché motif on its sporty Royal Oak watches. 
The Most Beautiful Guilloché Watches
Breguet Classique 7137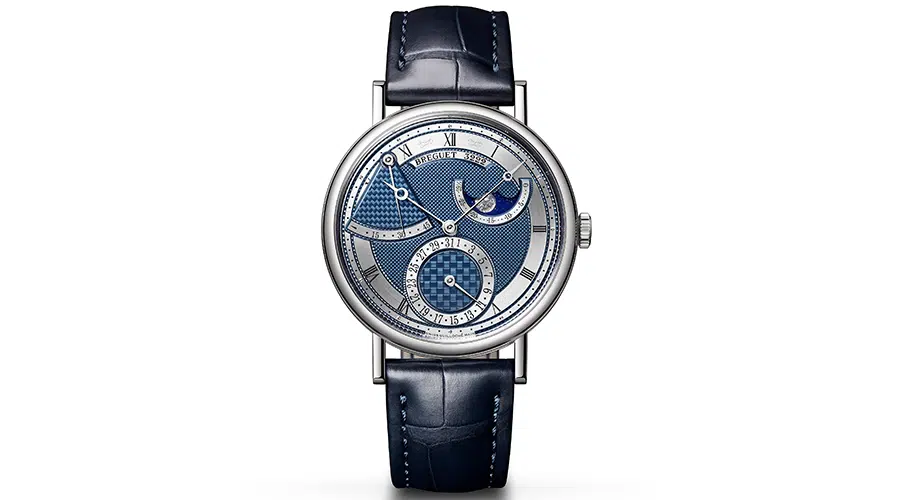 BREGUET
Considering that its founder, Abraham-Louis Breguet, introduced guilloché to watch dials, it's fitting that the brand remains dedicated to intricately designed guilloché dials. In fact, it has 20 artisans in its manufacture who specialize in guilloché. While many brands use a single pattern to decorate the entire dial, Breguet frequently uses different guilloché motifs on a single dial to draw attention to different parts of the dial, making it more legible.
In the pictured Breguet Classique 7137 watch, artisans use three different motifs. The main pattern is Clous de Paris, which decorates the majority of the dial. A floral motif is in the middle of the date subdial, while wavy lines show the power reserve. In addition, a dial with this level of detail is incredibly difficult to produce. As with all guilloché dials, a single slip ruins the entire dial, and the artisan must start from scratch. The 6 o'clock position also features the phrase "Swiss Guilloché Main," indicating this engraving was done by hand in Switzerland. 
Patek Philippe Grand Complications Minute Repeater Reference 7040
PATEK PHILIPPE
Patek Philippe is known for its mastery of rare handcrafts, including traditional guilloché. As a historic watch brand that has operated continuously since 1839, it also has access to many original machines. Its artisans still use antique lathes to hand-guilloché watch dials, bezels, and casebacks. Reference 7040 combines three difficult crafts: a minute repeater, guilloché, and flinqué enamel. An artisan decorates a gold dial plate with a swirling guilloché design to create this magnificent dial. Then, the dial is coated with flinqué enamel, a transparent enamel that showcases the pattern below. It has an elegant small seconds indicator at 6 o'clock. Instead of a traditional subdial, Patek Philippe applies white gold markers in a circular pattern to protect the integrity of the guilloché design. 
The bezel is set with 0.78 carats of Top Wesselton Pure diamonds using the brand's patented Flamme setting technique. This proprietary technique was specifically designed to improve the sparkle of diamonds in watch cases and features two rows of diamonds in a lace-inspired pattern. It has a matching blue alligator strap with diamonds on the buckle, too. 
The watch has an impressive movement. Patek Philippe is a master of minute repeaters, which chime the hours, quarter hours, and minutes on demand. The slide on the left side of the case activates the minute repeater with an upward push. 
Andersen Genève x Asprey Heures du Monde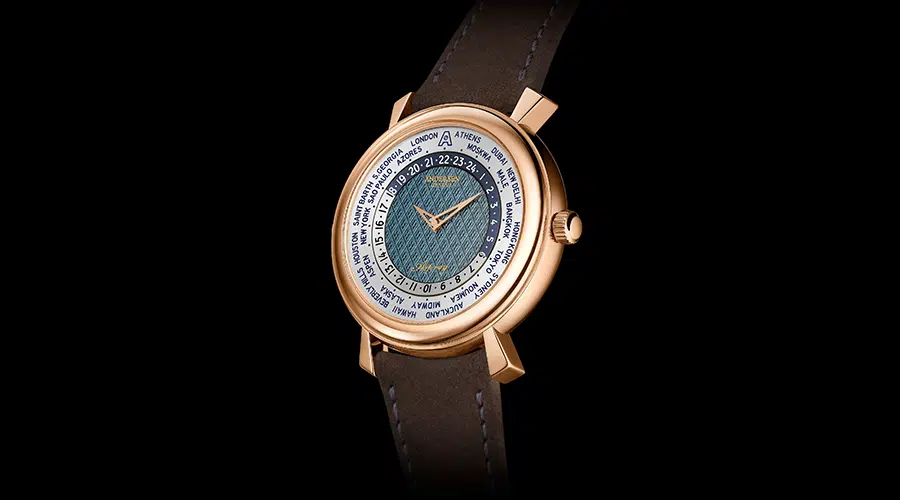 ANDERSEN GENÈVE
Andersen Genève frequently uses guilloché in the center of its world-time watches. The independent Swiss watch brand recently partnered with the prestigious British luxury house Asprey on a limited-edition watch with a unique guilloché dial. The watch blends many design elements of both brands. It has the classic stylings of Andersen Genève's world timers, showing all 24 time zones at once on two rings on the outside of the dial.
The angular lugs are unique, adding a graphic geometric look to the round 18K rose gold case. Inside the city and hour disks, the brands combine two of their hallmarks. Andersen Genève is known for its expert guilloché on a unique 21K BlueGold dial, a blend of gold and iron that turns blue after it has been heated. Here, it uses Asprey's diamond-shaped motif — the first time it's ever appeared on a watch — in the hand-engraved guilloché pattern. The watch features both logos, including a historical one from Asprey. The caseback is open to showcase the BlueGold rotor, engraved with the same guilloché pattern. 
While Asprey might best be known for its silver today, the retailer has a long history with watches, making this collaboration a natural fit for the brand. It was the first to sell Patek Philippe timepieces in England and created several double-stamped watches with top brands, including Patek Philippe, Jaeger-LeCoultre, and Rolex. One fine example sold for 3.9 million Swiss Francs in 2018. 
Voutilainen 28ES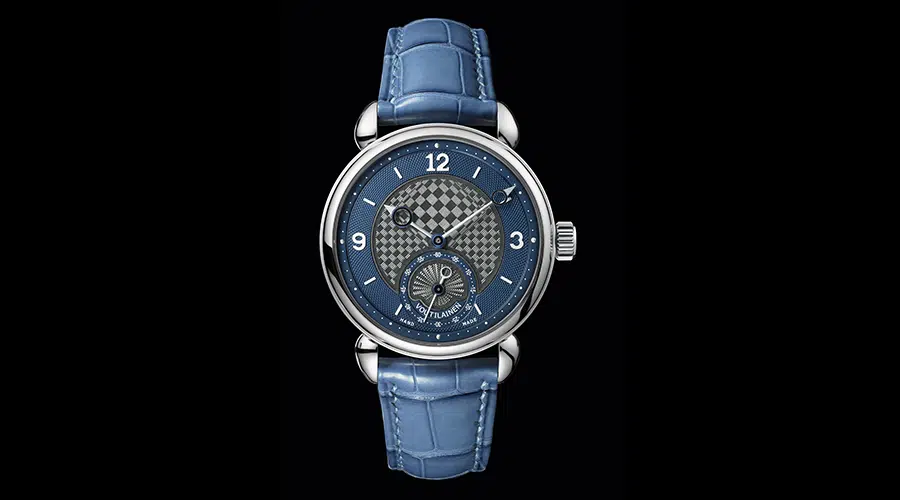 VOUTILAINEN
The independent Swiss watch brand Voutilainen is known for its masterful dials. They highlight a wide range of métiers d'art and frequently feature intricate guilloché motifs. Some are completely classic, while others show the modern side of this ancient craft. The 28ES has a thoroughly modern dial that uses asymmetrical guilloché to create an optical illusion. It's a fascinating sight to behold. The chapter ring for the hours is engraved with a classic design, while the center has a checkerboard pattern with an optical illusion. Creating a single dial with this motif takes nearly a week.  
Audemars Piguet 50th Anniversary Royal Oak Jumbo Extra-Thin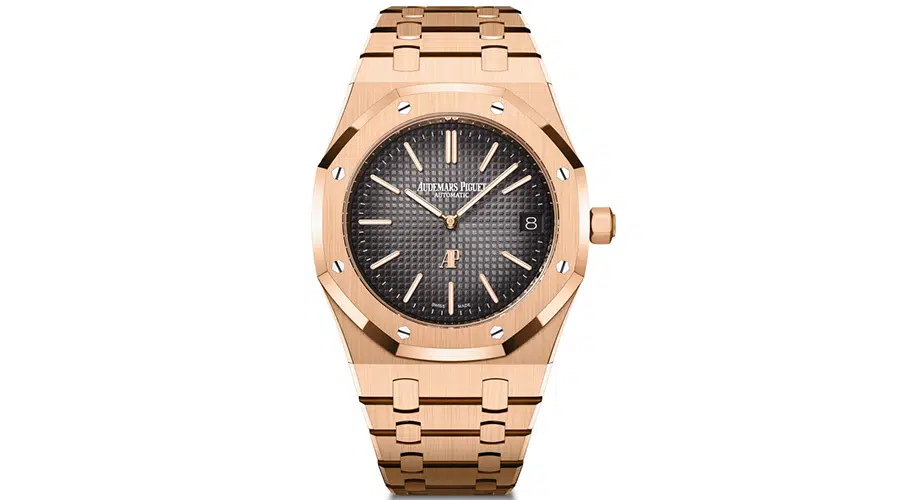 AUDEMARS PIGUET
Since 1972, the Tapisserie guilloché dials have been a hallmark of Audemar Piguet's iconic Royal Oak and Royal Oak Offshore watches. This geometric motif features hundreds of engraved squares that cover the dial. Audemars Piguet plays with the size of the Tapisserie pattern, using small, large, or "mega" cubes — truncated pyramids, as the brand calls them — depending on the model. Several of the 50th Anniversary Royal Oak Jumbo Extra-Thin feature the original Petite Tapisserie design in a blue color that graced the dial of the first Royal Oak watch. Audemars Piguet uses a guilloché copying machine to create its Tapisserie dials. 
Bovet Monsieur Bovet Turquoise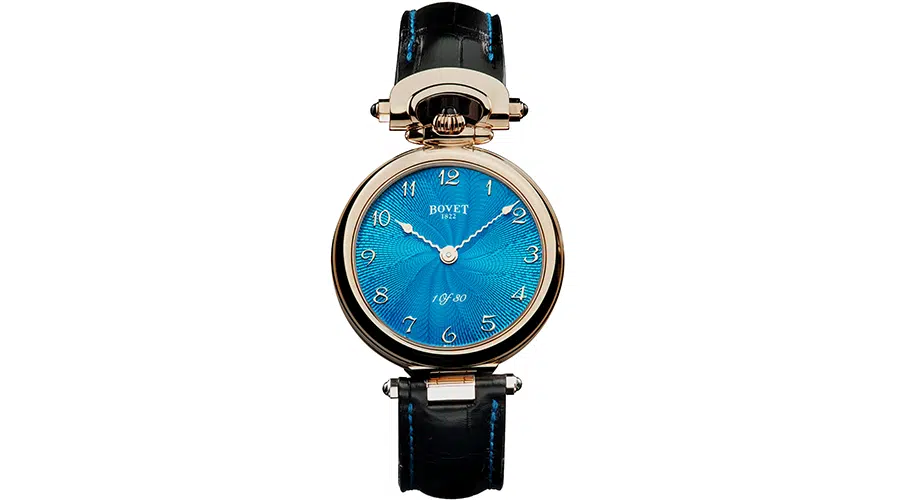 BOVET
Bovet has a long history with guilloché. The watch brand was founded in 1822, and many of its historic pocket watches feature guilloché. Today, the brand continues to honor its heritage with guilloché dials and pocket-watch-inspired wristwatches. The Monsieur Bovet collection is housed in the brand's patented Amedeo case, which is convertible in several ways. The watch has two faces, instead of a single dial on the front and the movement on the back. This means it's one of the only truly reversible watches on the market. The watch straps are removable, and it can be worn as a pocket watch or even used as a desk clock. 
The front dial of this Monsieur Bovet watch features a brilliant turquoise guilloché dial, while the back has a small off-center dial at 12 o'clock and reveals the watch's movement. To achieve this beautiful pattern and depth of color, the dial is first engraved in-house with the swirling guilloché motif inspired by a lotus flower's petals. Then, artisans apply translucent turquoise-colored lacquer and polish it to a high sheen. This translucent lacquer lets the guilloché pattern show through. It also adds a color-change effect as the light hits the dial from different angles, changing from bold turquoise to a rich blue depending on the light. The wavy hands on the front dial add a bit of an optical illusion to the spiraling guilloché. This watch has an impressive seven days of power reserve. 
Czapek Quai des Bergues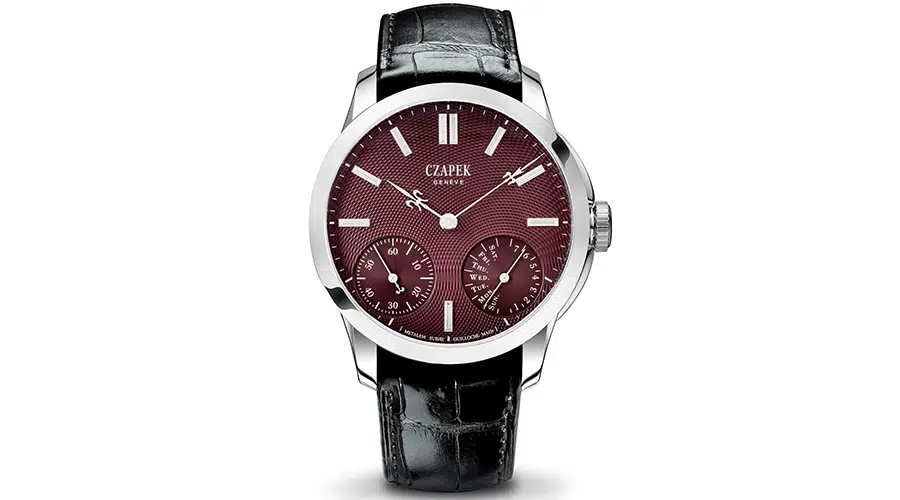 CZAPEK
Guilloché is a hallmark of Czapek, an independent Swiss watch brand named for the official watchmaker of Napoleon III and a founder of the company now known as Patek Philippe. (The original name was Patek, Czapek & Cie.) Czapek was resurrected in 2015. And its very first watch, 33 bis Quai des Bergues, earned the Public Prize at the Grand Prix d'Horlogerie. The Quai des Bergues collection is inspired by a Czapek timepiece from the 1850s. But it has a thoroughly modern look in the Rosewood S, thanks to a bold guilloché dial.
The watch has two subdials: One shows the day of the week and the seven-day power reserve; the other is a small seconds dial. The brand's signature guilloché motif is called Ricochet, which is inspired by a Czapek guilloché from the 19th century. Czapek worked with Metalem, a company esteemed for its guilloché work. Only the largest manufactures can afford to have in-house artisans in specialized métiers d'art like enamel and guilloché, so many small companies partner with outside partners for this work. The limited-edition Quai des Bergues Rosewood S comes with a brilliant maroon dial and is available with or without diamonds on the bezel.