These decorative techniques are centuries old, but the finest maisons are keeping them alive today.
In the world of high horology, it's not enough for a watch movement to be ultra-precise or to have impressive complications. The watches must be beautifully decorated inside and out, including finely finished movement components, perfectly polished cases, and gorgeous dials. The best watch brands use traditional decorative techniques called métiers d'art, which means "art professions." Artisans train for years to become experts in their crafts. The tools and knowledge they possess are frequently passed down through apprenticeships or families. These artistic crafts are time-consuming. Completing a single dial or engraving a component takes hours. The main métiers d'art are guilloché, engraving, and enamel. 
Guilloché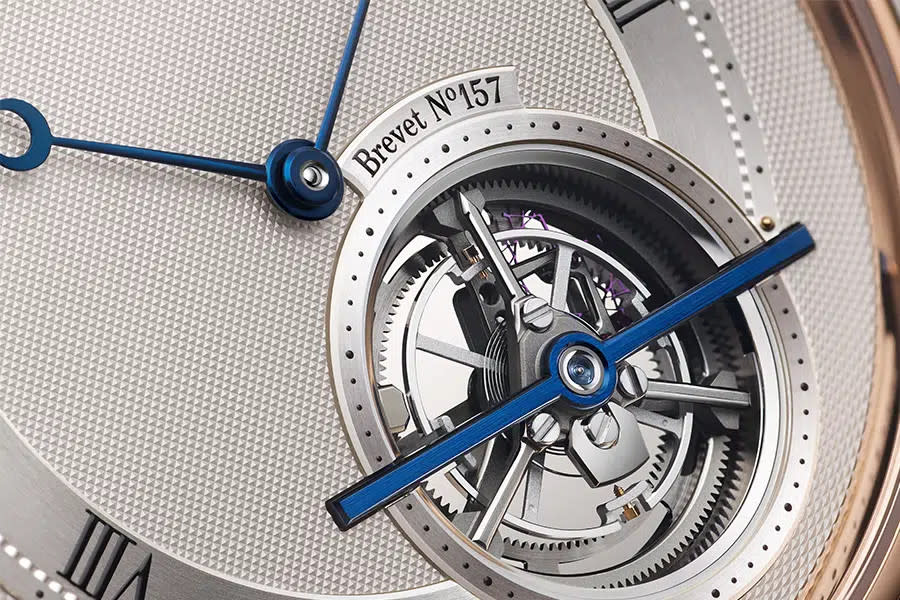 BREGUET
Guilloché is a well-known métier d'art, but that doesn't mean it's easy to do. Guilloché, also known as engine turning, involves engraving materials, such as the dial or movement components, in a decorative motif. Artisans use a rose or straight-line engine, a traditional machine powered by hand. Mastering the craft is exceedingly difficult, as a single slip ruins a dial. Some of the most popular types of guilloché are Clous de Paris (hobnail), sunburst, and Tapisserie.
It's fitting that Breguet is known for its exceptional guilloché designs. Abraham-Louis Breguet himself was the first person to use guilloché on watches, in 1786. Today, the Breguet manufacture employs 20 artisans skilled in guilloché who work on modern and vintage machines to hand-engrave dials and components. The pictured Breguet Classique Tourbillon Extra-Plat Anniversaire 5365 features Clous de Paris guilloché on the dial. The "dots" are created by crossing lines made using a diamond chisel. 
Other brands with exceptional guilloché dials include Patek Philippe, Vacheron Constantin, Parmigiani Fleurier, Audemars Piguet, and Girard-Perregaux.
Engraving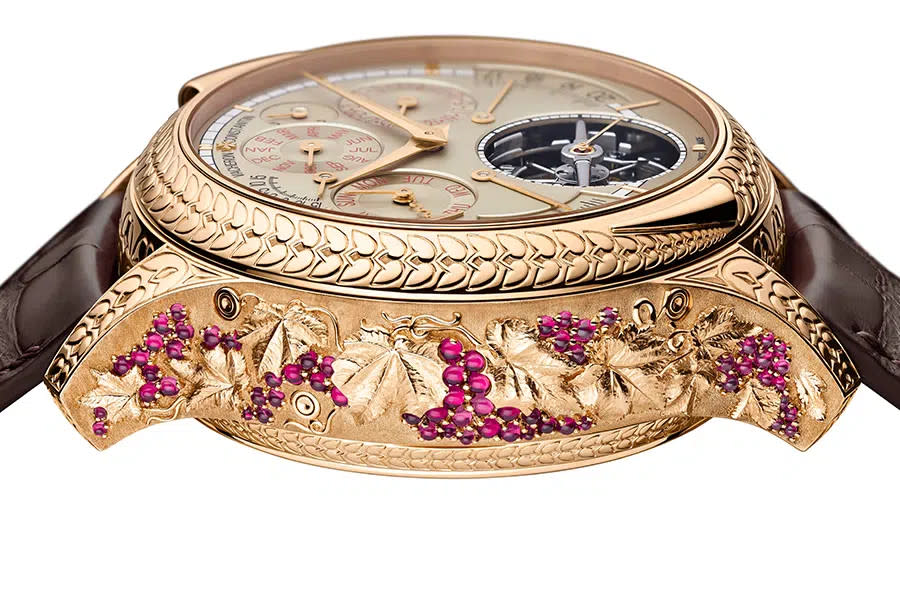 VACHERON CONSTANTIN
Engraving is one of the most common métiers d'art in watchmaking. Artisans decorate dials, movement components, and cases using different engraving techniques by hand. Using specialized tools, they remove metal to create a pattern or picture. 
Vacheron Constantin has expert engravers who turn out unique masterpieces, such as the Les Cabinotiers Grand Complication Bacchus. This watch case features an engraved motif of vine leaves alongside bunches of grapes made from rubies. It was crafted by hand using the bas-relief engraving technique. In this method, the artisan removed the gold around the vine leaves using a burin, so the leaves are raised, not engraved into the case. The level of detail on each leaf is truly astonishing.
Miniature Painting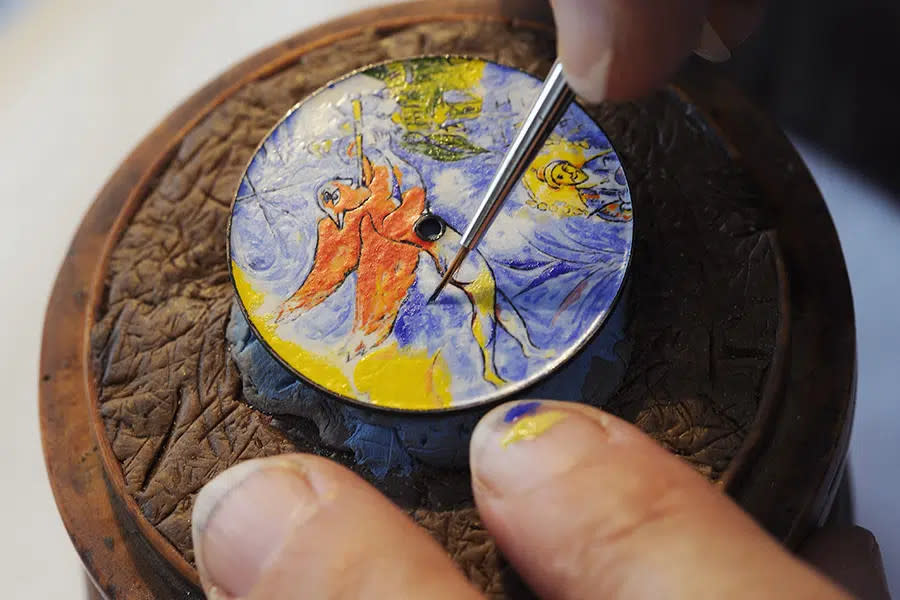 VACHERON CONSTANTIN
Using ultra-fine brushes — some that consist of a single hair — artisans paint masterpieces on watch dials. These brushes aren't available in stores; artisans make them by hand to suit each miniature painting. They might employ many different brushes on a single dial to capture every delicate detail.
Enamel
Enamel watch dials are absolutely beautiful. They have rich colors, which come from layering paper-thin coats of enamel. After each layer is applied, the dial is fired in a kiln. Enamel is a delicate material, at risk of cracking or becoming dull with each firing. If that happens, the enameller must start again. There are many different types of enamel dials, including grand feu, fumé, cloisonné, champlevé, plique-à-jour, flinqué, and paillonné. Each one requires a high level of precision and expertise. This métier d'art is increasingly rare.
Cloisonné Enamel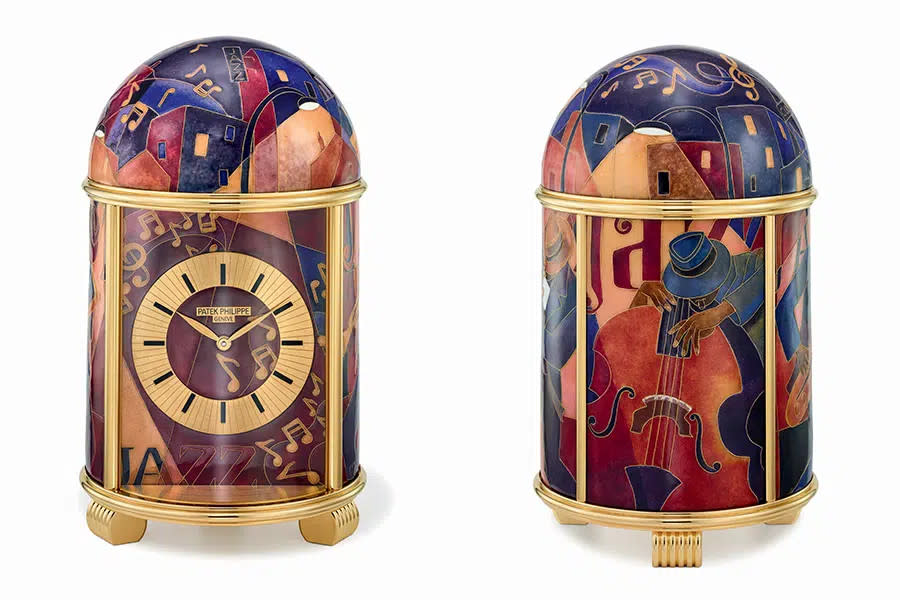 PATEK PHILIPPE
This métier d'art marries gold designs with colorful enamel. Artisans outline a motif using flat gold wire, then fill in each tiny section with different colors of enamel. It's painstaking, delicate work, and it results in brilliant colors and sharp images. Patek Philippe is an expert at cloissoné enamel, which is on full display in the Jazz dome clock from its Rare Handcrafts collection. These dome clocks are one of the most sought-after — and elusive — pieces in horology, reserved for its top collectors.
Champlevé Enamel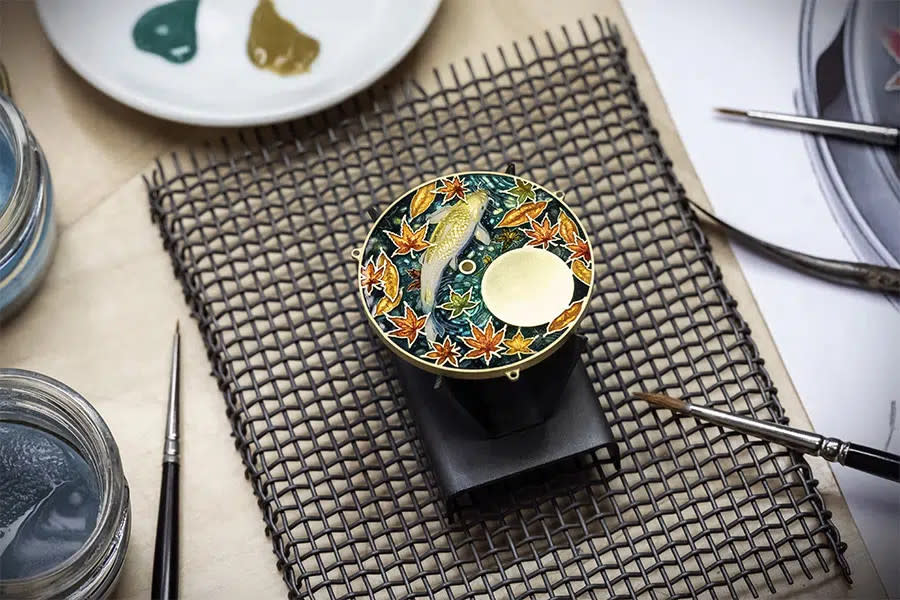 VACHERON CONSTANTIN
Champlevé enamel blends engraving with enamel painting. First, an artisan hand-engraves a design onto a watch dial. Then, an expert enameller paints the engraved areas with layers of enamel. These pieces have a three-dimensional effect, thanks to the different heights of the engraved design elements. The Vacheron Constantin La Musique du Temps Four Seasons watch is a perfect example of champlevé. The enamel leaves appear to float over the water while a fish swims beneath it.
Plique-à-jour Enamel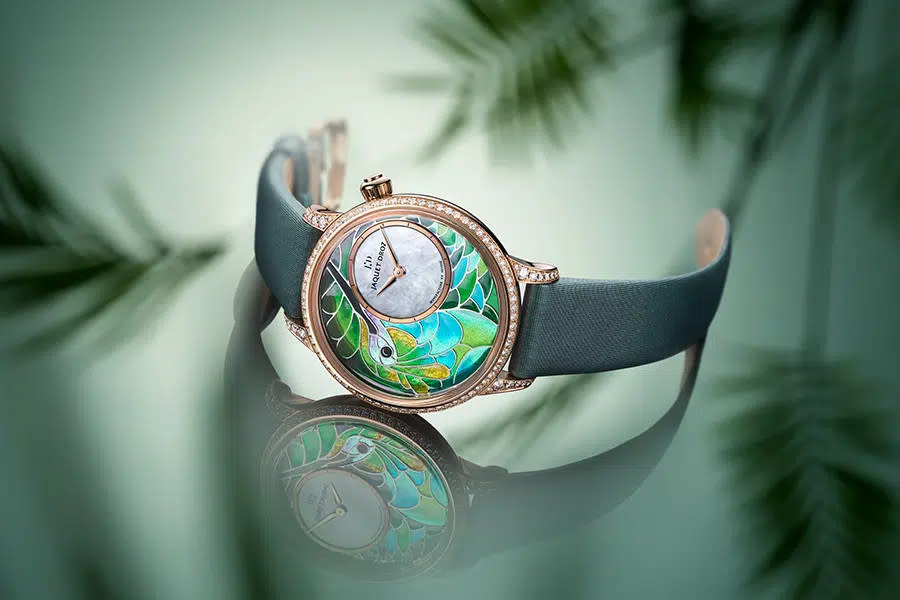 JAQUET DROZ
Plique-à-jour enamel is an ancient technique that predates watches by more than 1,000 years. It's best compared to a stained glass window, as the enamel is not painted directly onto a surface as in other forms of enamel work. Jaquet Droz is one of the few manufactures that still makes watches with plique-à-jour enamel dials. In order to produce these magnificent dials, an artisan creates a gold dial with empty spaces in which to apply layers of enamel, firing each one in a kiln before applying the next. The final piece features colored, transparent enamel with brilliant, intense color. 
These watches aren't just beautiful. They're also technically impressive due to the fact that the movement itself must be miniaturized so that the plique-à-jour enamel doesn't have an opaque backing. As you can see, the movement in the Jaquet Droz Petite Heure Minute Smalta Clara Humming Bird is tiny, which allows the enamel to be visible on both sides of the watch. 
Fumé Enamel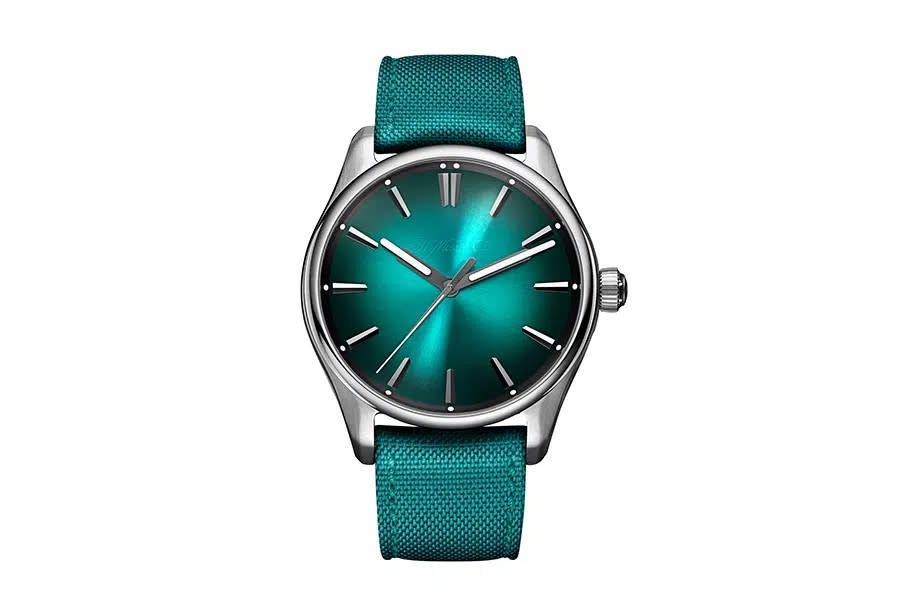 H. MOSER & CIE
H. Moser & Cie is an expert in creating stunning fumé enamel dials. These dials feature a rich gradient of color, and they come in both classic and wild hues, such as a bold turquoise dubbed Mega Cool and another specific shade called Funky Blue. The dials are at their best in the Concept watches, which eschew all branding and indices. Instead, these watches feature only hour, minute, and seconds hands, even on perpetual calendar watches. Fumé enamel dials have become a signature of H. Moser & Cie, but there are other brands that use this métier d'art as well.
Flinqué Enamel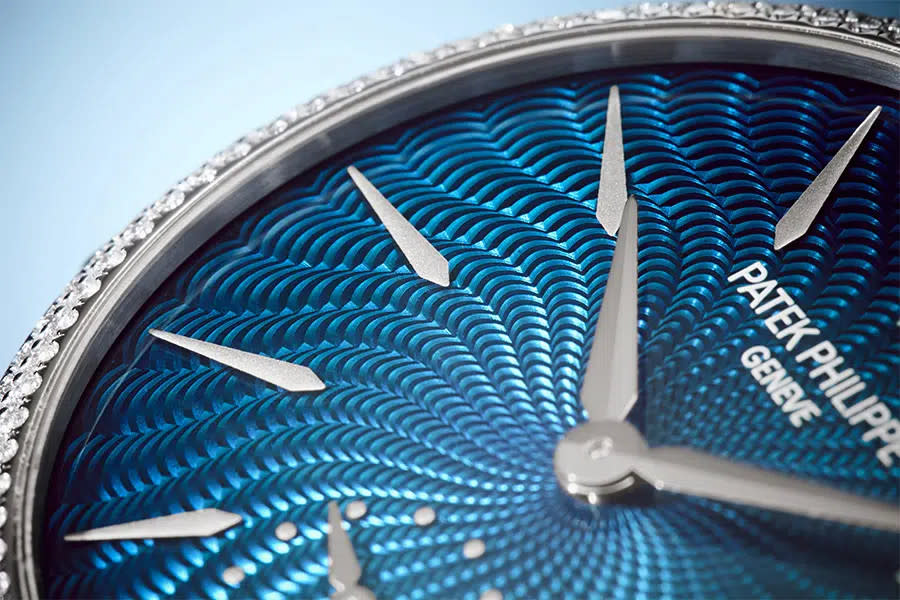 PATEK PHILIPPE
When the guilloché is this beautiful, you want to show it off. Patek Philippe uses the flinqué enamel technique on this impressive ladies' minute repeater, Ref. 7040/250G, which coats the engraved gold dial plate with transparent blue enamel. This adds a stunning color while still showcasing the guilloché. The dial says "email," which means enamel in French, at 6 o'clock.
Paillonné Enamel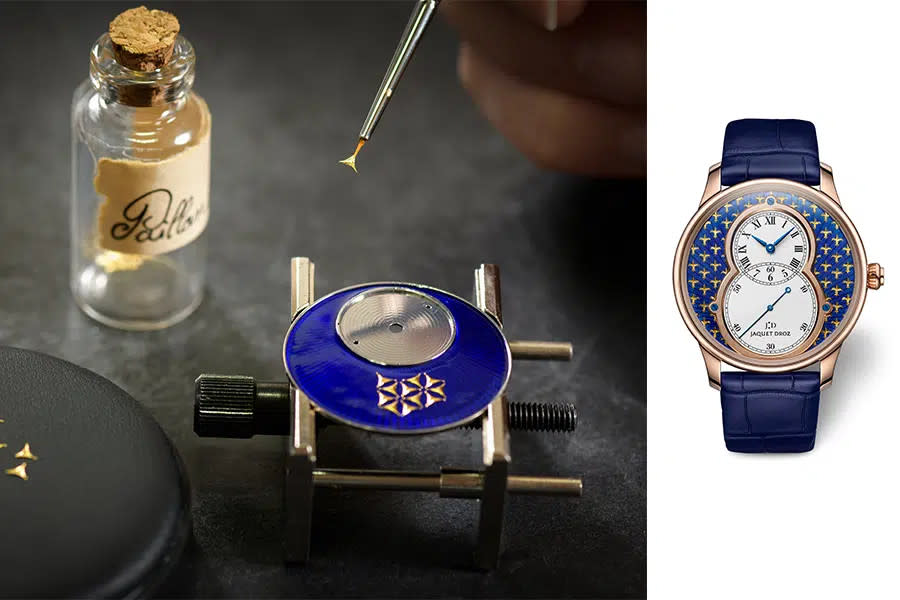 JAQUET DROZ
This rare métier d'art involves placing gold-leaf paillons (thin sheets of metallic foil) atop an enamel dial. After painting layers of enamel to achieve a deep color, an artisan applies the paillons in a decorative pattern. Each paillon is minuscule, and artisans apply them using a delicate brush consisting of just a few hairs. After the paillons are in place, artisans brush on a coat of clear enamel. The Petite Heure Minute Paillonnée from Jaquet Droz features a traditional geometric motif atop a rich blue dial.