If you are planning a trip to the magnificent island of St Barths, you'll need the inside scoop from a seasoned expert.
The tony, French-speaking island of St. Barths is like nothing else in the Caribbean, and perhaps even the world. The mountainous nine-square-mile island is small, yet it's one of the swankiest thanks to its glamorous, jet-set crowd, Michelin-quality restaurants, designer boutiques, buzzy beach clubs, and intimate luxury hotels. St. Barths is an overseas collectivity of France that feels like a more tropical Côte d'Azur but with a laid-back Caribbean attitude. 
The lush, mountainous island is dotted with red-roofed villas peeking out from the foliage, narrow windy roads leading to pristine, white-sand beaches, indoor-outdoor restaurants, and more. It's a confluence of elegant jet setters and relaxed, friendly locals, and the island has a distinct European flair. 
As one of many hundred Caribbean islands, St. Barths is unique in that every bit of the island offers something different. Crime is exceptionally low, and the locals are mostly French or Portuguese ex-pats. It's also extremely private, known for its abundance of discreet and luxurious private villas (there are more than 500). Renting a car is a must on the island, as taxis are few and far between. It's also the best method for exploring every cliff, coast, and nook on the island, which you'll want to do between boozy lunches and shopping in downtown Gustavia.
The Best Hotels in St. Barths
Hôtel Le Barrière Le Carl Gustaf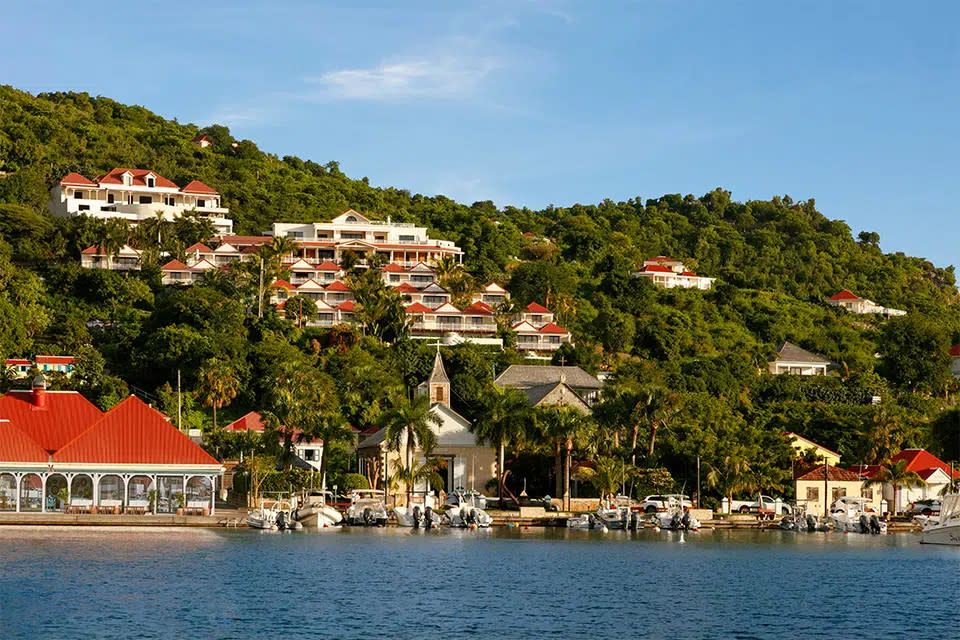 FABRICE RAMBERT
Nestled just above Gustavia, St. Barths' main town, Hôtel Le Barrière Le Carl Gustaf is a contemporary, French-inspired hotel that officially opened in 2019. You can't ask for a more perfect location, within walking distance to Gustavia's marina, luxury designer shops, and fabulous restaurants. The hotel has just 21 rooms, suites, and bungalows, many with their own plunge pool and terrace. And its design is island-inspired with palm motifs and a tropical color palette. There is also a luxury spa, Spa Diane, and two dining spots: Bar Le Fouquet and Shellona, a lively beachside restaurant. Guests are a stone's throw from the iconic Shell Beach (an apt name as it's filled completely with seashells), the island's go-to spot for watching the sunset.
Cheval Blanc St-Barth Isle de France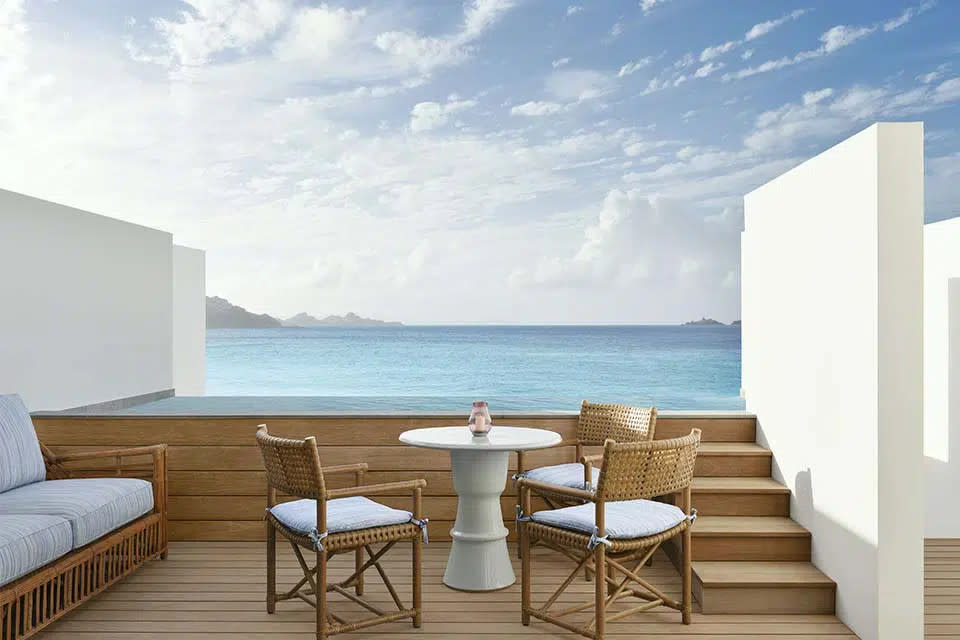 JACQUES GRANGE / V. MATI
LVMH-owned Cheval Blanc St-Barth Isle de France captures the feeling of being within a high-fashion jungle, as it's ensconced within lush greenery and towering palms. Set among the pristine Flamands Beach, Cheval Blanc is known for its elegant, French-inspired island décor from renowned designer Jacques Grange. There are 61 rooms, suites, and villas, as well as the Cheval Blanc Spa and three restaurants and bars serving fresh seafood and Caribbean fare. It is also the only hotel in the area to be awarded the Distinction Palace by the French Ministry of Tourism, which recognizes the finest five-star hotels that embody the highest French standards.
Eden Rock St. Barths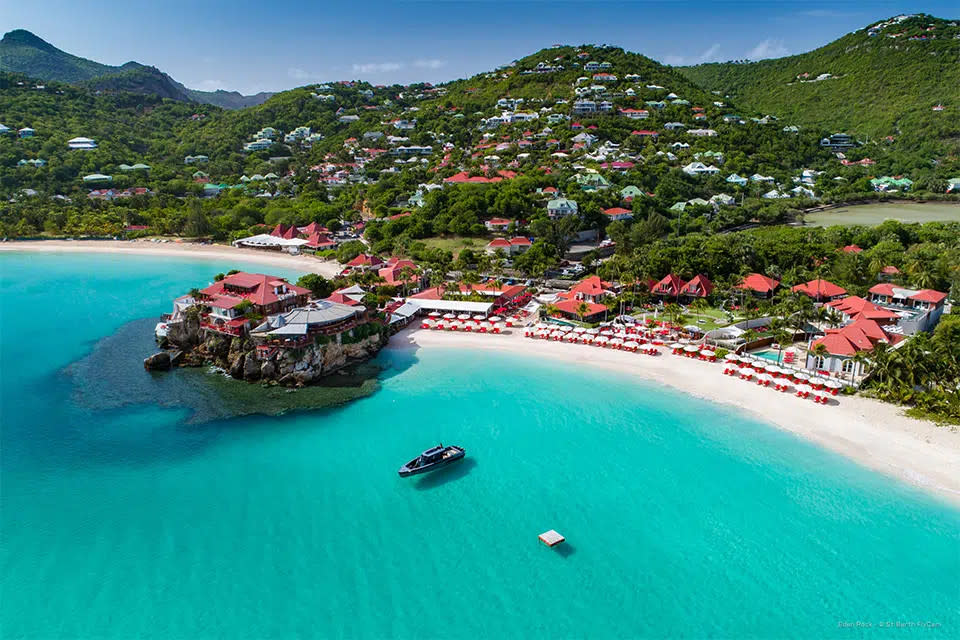 EDEN ROCK ST BARTHS
Built 50 years ago by the island's first mayor, Rémy de Haenan, Eden Rock St. Barths is the island's crown jewel hotel, known for its daring location atop a rocky promontory. Masterfully renovated several times over the last five decades, the luxury hotel has sumptuous suites and villas, each overlooking St. Jean Bay. The hotel was completely refurbished after Hurricane Irma's devastation in 2017. And all of its restaurants and bars, including Sand Bar Restaurant and the chic lobby bar, Rémy Bar, were redone. Eden Spa was also added. As well as a bi-level boutique with select designer pieces sold exclusively at the boutique. Eden Rock is most known for its extravagant villas, like Villa Rockstar, which has its own recording studio.
Le Barthélemy Hotel & Spa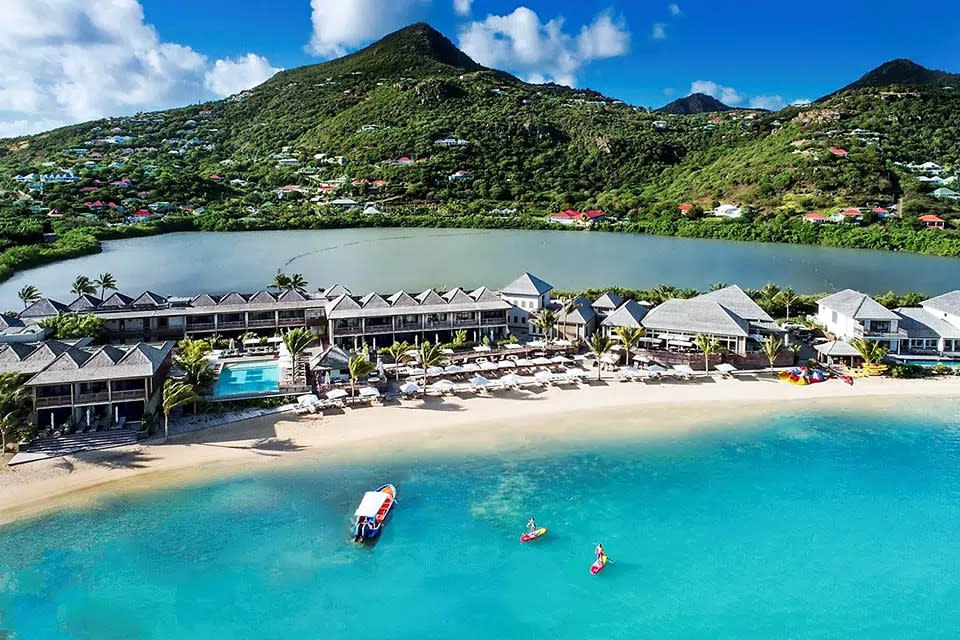 ERIC MARTIN-FIGARO
The island is small, but Le Barthélemy Hotel & Spa feels worlds away from the hustle and bustle of downtown Gustavia and the lively St. Jean. On the opposite side of the island's main traffic, Le Barthélemy is a beachfront hotel on Grand Cul de Sac. Rooms and villas have either garden or ocean views and a tropical-inspired design. Le Spa is one of the best on the island and has warm and cold Nordic bath pods, La Mer facials, soothing massages, and kids' treatments. The sole restaurant, Aux Amis, transforms from beachside fare by day to gourmet cuisine by night. The hotel is especially family-friendly but is also a quiet respite for couples. There's a spacious pool deck and an infinity pool overlooking the cove.
Rent a Villa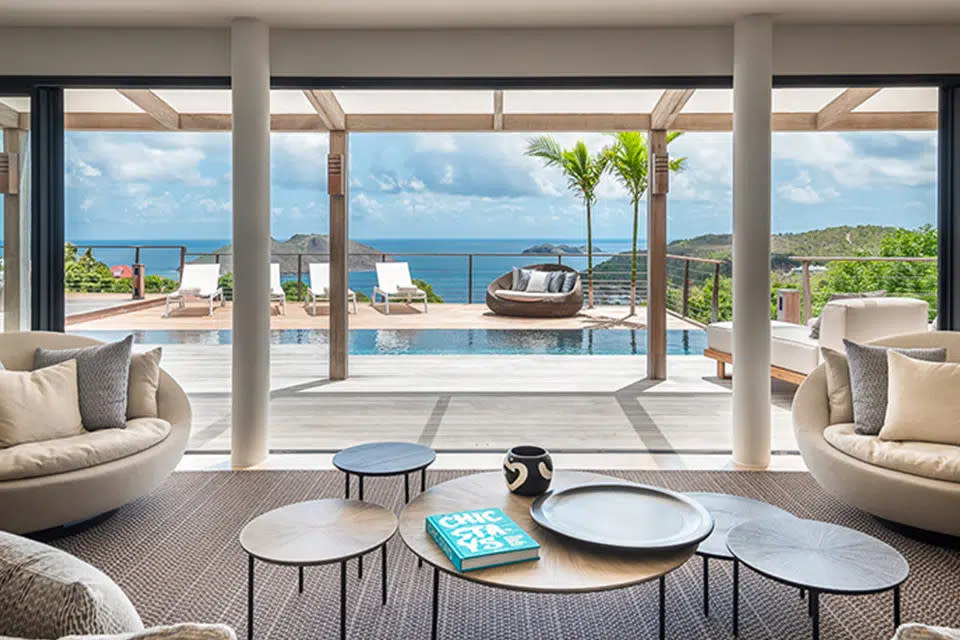 WIMCO
St. Barths is unique in that the most luxurious and spacious accommodations aren't hotels, but sprawling villas. There are villas throughout the island to suit every group size, design preference, and (most) budgets (some can set you back $300,000 per week). As all hotels on the island are boutique, villas offer more space and privacy. As well as access to a personal 24-hour concierge who can set up everything from reservations to excursions to transportation. The most well-known rental companies on the island are St. Barths Properties, Wimco, and Sibarth, known for catering to royalty, celebrities, and dignitaries. No detail is left to chance, whether you need a babysitter for the night, specific provisions delivered each day, a private shopper, or champagne upon arrival.
The Hottest Restaurants in St. Barths
Bonito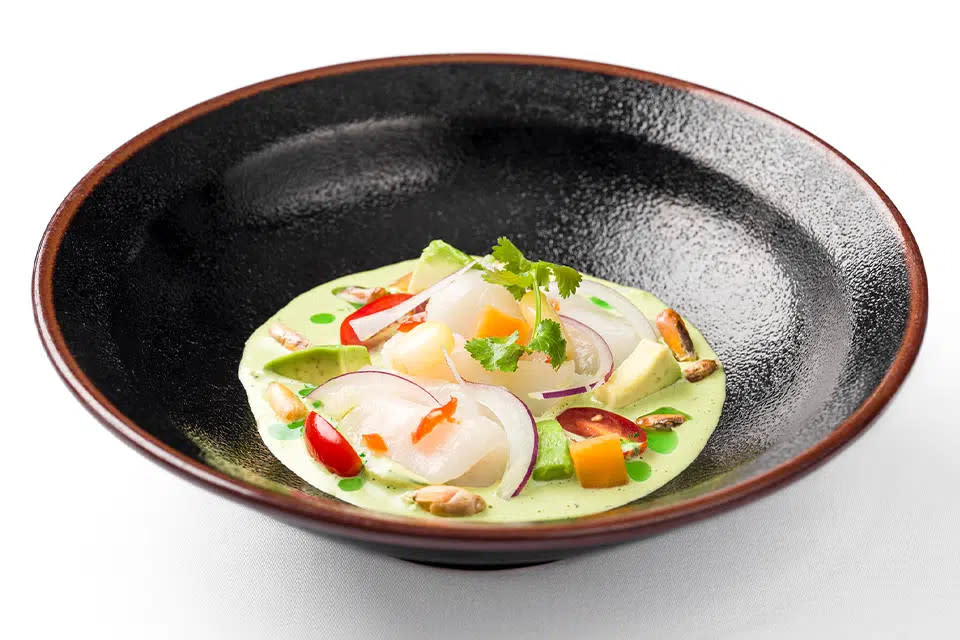 ROMEO BALANCOURT / BONITO ST BARTHS
One of the most gorgeous (and delicious) restaurants on the island is nestled right above Gustavia's glittering marina. The upscale Bonito St. Barths has a Hamptons-meets-St. Tropez vibe with a white color palette and natural-inspired decor, like rattan chandeliers and seaside-inspired accents. Bonito serves French and PanAmerican cuisine, with Peruvian-inspired flavors, including a zesty truffle ceviche and delectable seafood risottos. A DJ spins lively tunes during dinner, and the resident mixologist serves inventive cocktails. 
Maya's 
Few things on the menu have changed since Maya and her husband opened her eponymous restaurant in 1984. The French-Caribbean-style cuisine at Maya's is fresh and delicious. And there's always local seafood on the menu, like Dover sole, lobster, and mahi-mahi. There's also an incredible wine list, which pairs perfectly with the restaurant's breezy, oceanfront location. Guaranteed a chic ambiance and a celebrity sighting or two (depending on what time of year you go), there's a reason why Maya's has been an island mainstay for nearly four decades. Maya's To Go in St. Jean is a fantastic on-the-go option for sandwiches and frîtes for chill beach days if you can't snag a dinner reservation or just feel like having a picnic.
L'Isola
L'Isola first opened in 2008 in Gustavia. Upon entering, it transports you to a chic cosmopolitan destination with its dimly lit dining room, white tablecloths, contemporary artwork, and light fixtures. It serves authentic Italian cuisine with ingredients imported from Italy and is one of the most sophisticated restaurants on the island. The chef hails from Rome, and his specialties include branzino selvatico al forno, as well as fresh, homemade pasta dishes like taglioni and ravioli. Dinner is rich and savory, so pair it with one of the restaurant's many Italian wines on offer.
Le Sereno Al Mare Restaurant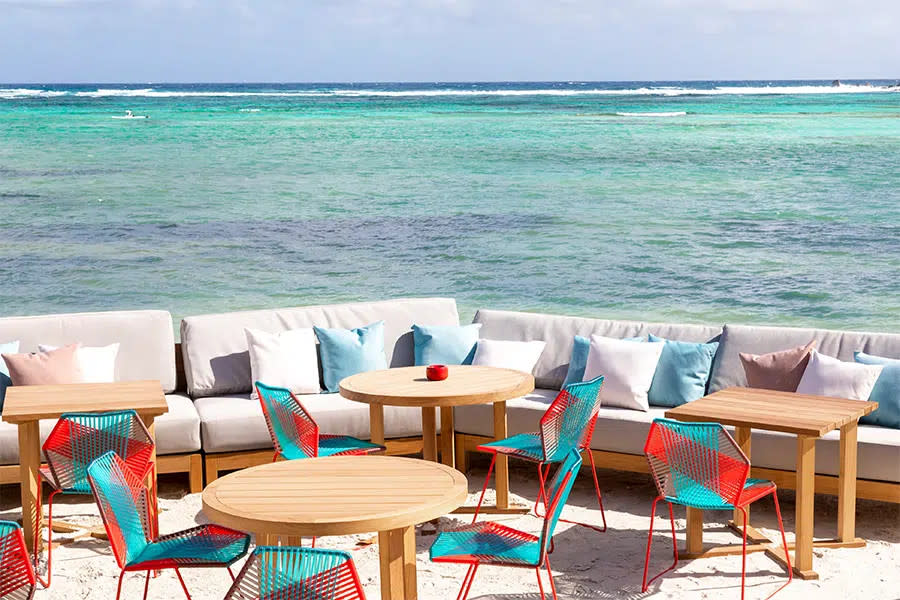 LE SERENO AL MARE
In fact, Le Sereno is the sister hotel to Il Sereno Lago di Comi in Italy. And the hotel's main restaurant, Le Sereno Al Mare, is directly inspired by the hotel group's Italian heritage. Helmed by executive chef Raffaele Lenzi, Le Sereno Al Mare Restaurant focuses on local ingredients woven into traditional Italian dishes. Popular dishes include lobster spaghetti, spaghetti with fresh cucumber ceviche, and traditional Italian fish soup. The open-air restaurant takes advantage of the warm Caribbean breeze and its prime location steps away from the hotel's private beach within Grand Cul de Sac.
The Best Things to Do in St. Barths
Charter a Yacht
GUIREC POULIQUEN / TOURISM COMMITTEE
Many arrive at St. Barths via their superyacht. But if you're staying in a hotel or villa, you can get your boat fix via a chic rental from St. Barth Sailor or MasterSki Pilou. Sail in a yacht or catamaran to enjoy a day or sunset cruise. Arrange a chef, butler, or catering, and enjoy an array of activities, from snorkeling and diving to fishing and swimming. A boat rental is a great way to see the island from a new vantage point. As well as visit uber-private beaches, like Colombier. 
Hit the Beach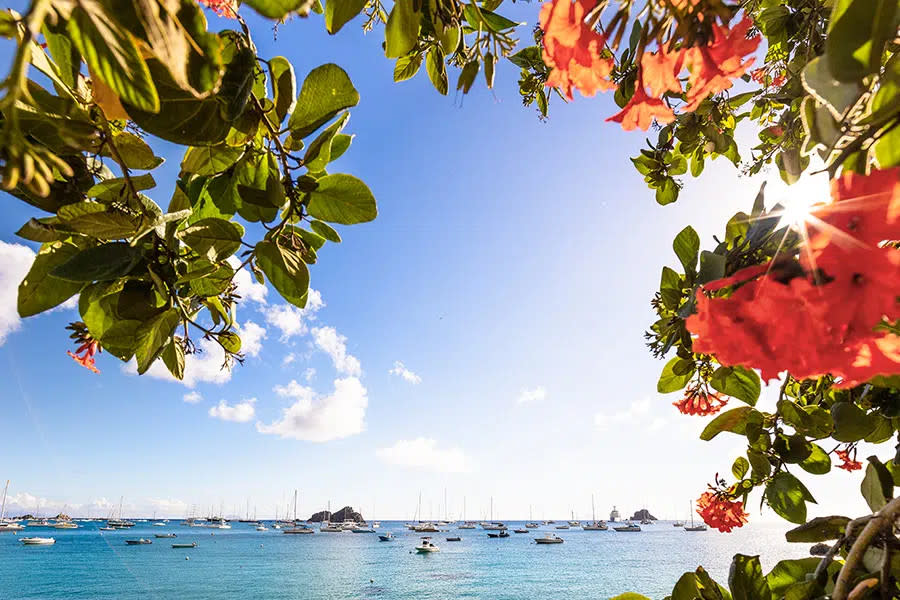 GUIREC POULIQUEN / TOURISM COMMITTEE
St. Barths is known for its pristine, soft, white-sand beaches, and there are 14 to choose from. Some are best known for surfing, like Lorient, while others are known for their privacy, like Colombier. There are three beaches on St. Barth's with no restaurants or homes on the shore: Saline Beach, Colombier Beach, and Gouverneur Beach. Saline Beach, situated between two, steep-sided rocky bays, is a favorite among locals and tourists alike for its spacious stretch of swimmable ocean and privacy (the beach is accessed via a long, rocky pathway) or by boat. Despite the island's small size, you'll never be without a new, gorgeous beach to explore.
Shopping
It might not be the first thing you think of when coming to a Caribbean island, but St. Barths is no ordinary place. Gustavia has several international designer boutiques along its main street, nicknamed "Rue du Couturier." Shops include Louis Vuitton, Dior, Hermès, Cartier, Ralph Lauren, Roberto Cavalli, Prada, Bulgari, Chopard, Dolce & Gabbana, and Tod's, to name a few. The island also has several local brands, including Poupette and Lolita Jaca, which have colorful silky beach dresses. St. Jean is another great place to shop and is lined with local boutiques for men, women, and children. And don't forget to shop for home décor while here. Sonia de Baya and Clic in Gustavia sell gorgeous furniture, art, tiles, coffee-table books, and more.
Explore Nature
St. Barths might be known for its raucous beach clubs and glitzy crowd, but the island has a beautiful, mountainous landscape that's well worth exploring. There are incredible natural pools, only accessible via rocky hikes and hiking trails to private beaches that will test your fitness while revealing the island in a new light. There's also plenty of cliff jumping, a favorite activity by some of the locals. The most popular spot is a brief swim from Shell Beach. Where the locals have marked off cliffs by height and provided a rope ladder to safely climb up. There are also several areas of the island designated as wildlife sanctuaries in an effort to sustain the natural flora and fauna of the island and spare St. Barths from overdevelopment.
Local Favorites in St. Barths
Despite some impressions, St. Barths isn't all magnums of champagne and caviar. One of the most favored local haunts is Le Select, which serves the best burgers and chilled Carïbs on the island for less than 10 euros (local hero Jimmy Buffett is said to have written "Cheeseburgers in Paradise" about this very spot). Jojo Burger near Lorient Beach is another no-frills casual burger joint you can't miss. It's been on the island for decades and its menu of burgers and sandwiches is the perfect antidote to a long day spent dancing atop tables at Nikki Beach. Stop by local pottery shop Les Petits Carreaux for a colorful ceramic memento; Mignot for Tahitian pearl necklaces; Mademoiselle Hortense for cute mom-and-daughter matching sets; or Ligne St. Barths, the island's very own skincare and body line with great-smelling after-sun lotions.
How to Get to St. Barths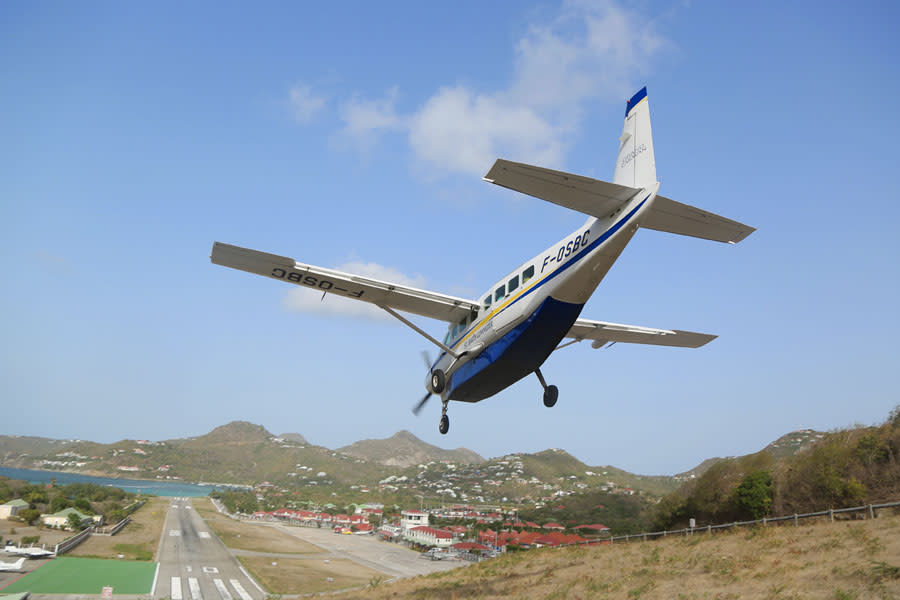 LEONARD ZHUKOVSKY / SHUTTERSTOCK
Every jet setter who has been to St. Barths almost exclusively flies in via a Tradewind Aviation charter. St. Barths doesn't have a large airport — in fact, it famously has one of the world's shortest runways — which means that commercial aircraft and even private jets are unable to land on the island. So, visitors arrive in Puerto Rico or St. Maarten to catch a puddle jumper to the island. Tradewind offers small, yet luxurious private charters from Puerto Rico, the U.S. Virgin Islands, or St. Maarten, complete with a private lounge to enjoy coffee, champagne, and snacks before your flight. The flight is just under 30 minutes, depending on where you had embarked. And is the quickest way to get there. The landing between two peaks is somewhat dramatic, but exhilarating. And you'll land just feet in front of the ocean for an adrenaline-fueled arrival.
Getting Around St. Barths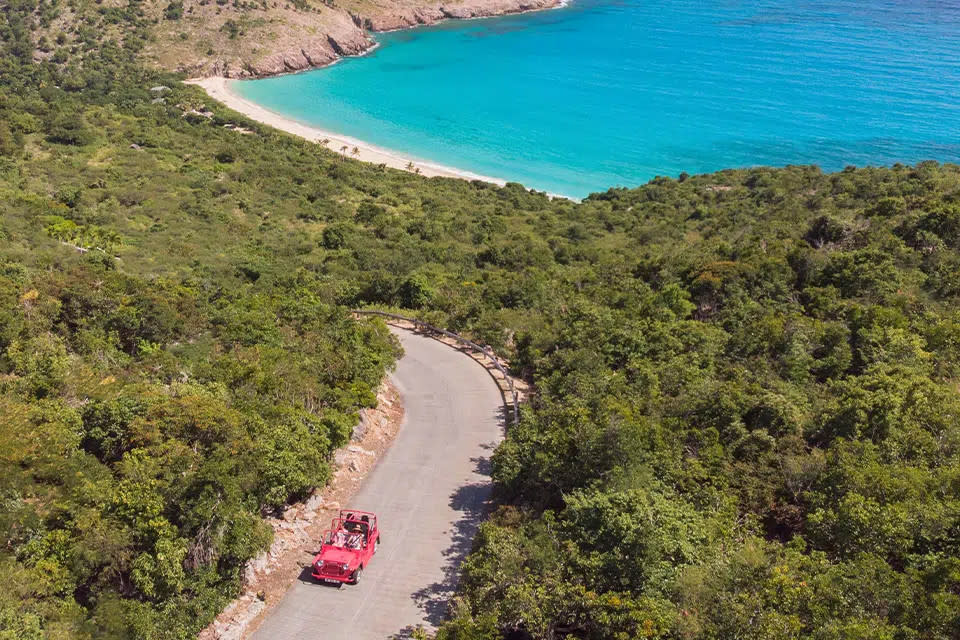 EDEN ROCK ST BARTHS
Taxis are few and far between on the island. So the best way to get around is by renting your own car. The island is known for its Mokes, or doorless, vintage-looking beach buggies that are small, breezy, and, most importantly, easy to park in tight spaces. But there are several options available. A car rental is the best way to explore the island's many unique spots, from the rocky cliff sides on the Eastern side to downtown Gustavia and beyond.