The azure shores of the Mexican Caribbean tempt with picture-perfect beaches, fun beach clubs, ancient history, and a "Tuluminati-specific" leisure atmosphere.
In just a few years, Tulum has transformed from a shabby village of beach palapas, yoga, and hippy living into an international destination with extensive development and even a soon-to-open airport. Today, Tulum is just an easy flight away from any city in the United States, making it a paradisiacal weekend getaway for wellness fiends, festival lovers, and beach enthusiasts looking to escape it all and embrace bohemian beach living. 
From white-sand beaches to turquoise cenotes, Tulum has an array of natural wonders to explore. It's also the kind of place for people from all walks of life, united by a love for nature, spiritual reconnection, and excellent culinary offerings. With that, the town's popularity has grown. And it is now considered an urban zone, but the magic of beachfront village living persists. Discover the ultimate local luxury travel guide to Tulum. 
Where to Stay in Tulum
La Valise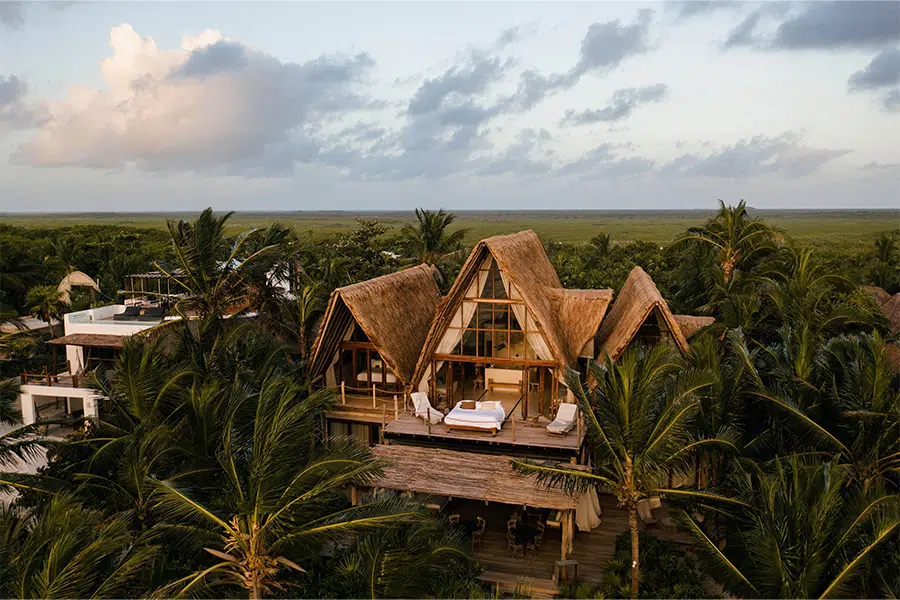 LA VALISE
Belonging to the French hospitality group Namron Hospitality, La Valise is an elegant hotel in Tulum that embraces a Riviera-style l'art de vivre. Here, beds roll out directly onto the patio. In addition, indoor showers convert into outdoor bathtubs for ultimate relaxation. With both a beachfront and jungle location, La Valise offers the best of both worlds, including its luxurious living room. Its design features some of the best Mexican artisanal crafts collected nationwide. So guests come back time and time again to enjoy the stunning décor and sublime service. 
Casa Bautista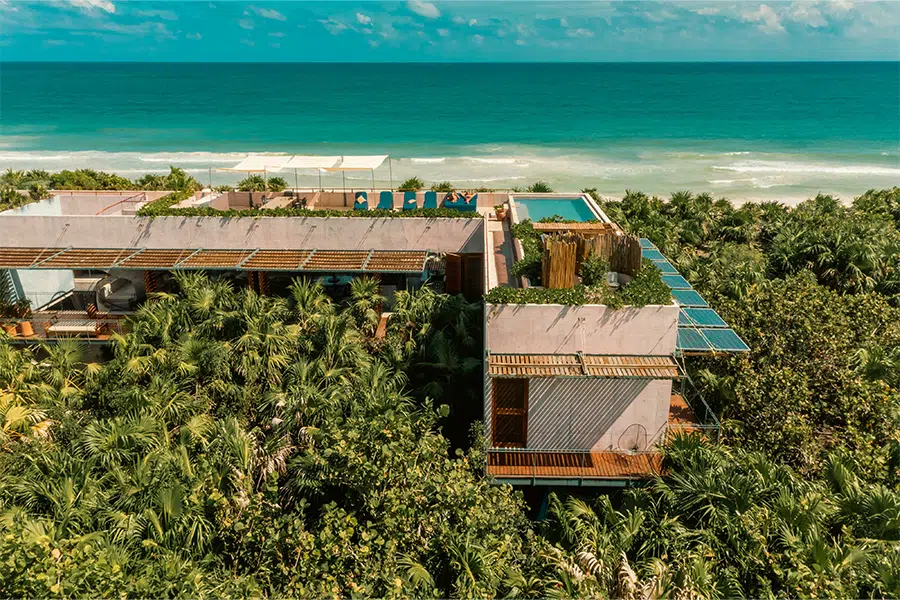 CASA BAUTISTA
Remoteness is key for those who love "authentic" Tulum, and Casa Bautista delivers flawlessly. This 10-person villa on the beachfront in the protected natural reserve Sian Ka'an is an architectural marvel of seamless indoor-outdoor living. Fronted by a private beach, it gives the word "luxury" new meaning. And also creates a high standard for the future of hotels in this little town. 
Nômade 
The stylish It crowds in Tulum stay at Nômade. Its excellent beach club and room design with double-floor suites that climb up to the jungle canopy are perfect for honeymooning and couples' getaways. Nômade also has a great wellness program, three restaurants (including a Japanese omakase bar), and live music events directly on the beach.
Casa Malca
Known as the vacation home of Pablo Escobar, Casa Malca is now an eclectic hotel with a grand art collection. In addition, its sumptuous spaces have a regal appeal. Starting with a two-floor curtain made from wedding dresses at the entrance, followed by frescos, chandeliers, and more. Casa Malca is also known for one of the best beach club experiences in the area. With excellent service and continuously raked sand with not a single piece of seaweed in sight. 
Rent a Villa in the Jungle 
The jungle is perfect for luxurious private villa properties. Larger villas include Hacienda Wakax, Casa de Agua, Casa Aviv, Casa Shalva, and more for full-service stays away from the crowds amid the Mayan jungle.  
Find more luxury travel guides here.
Where to Eat in Tulum
Tulum's culinary scene borrows from traditional Mexican and mixes in regional Yucatecan food and international techniques to create chic seaside bites. Most Tulum restaurants excel with local, organic ingredients, such as fresh fish and other seafood, as well as tropical fruits. As a result, the dishes in Tulum are like nowhere else in Mexico or worldwide and now garner international attention. 
Arca 
Tulum's best-known culinary offerings are at Arca, helmed by Jose Luis Hinostroza. One of the only destinations on the globe that is on both the World's 50 Best Restaurants and World's 50 Best Bars lists, Arca is a true sensory experience. Hinostroza takes modern Mexican cuisine to a new level with his delightful octopus tostadas and soft-shell crab tacos in hoja santa leaf paired with delicious tropical mixology by Peter Sanchez. 
NÜ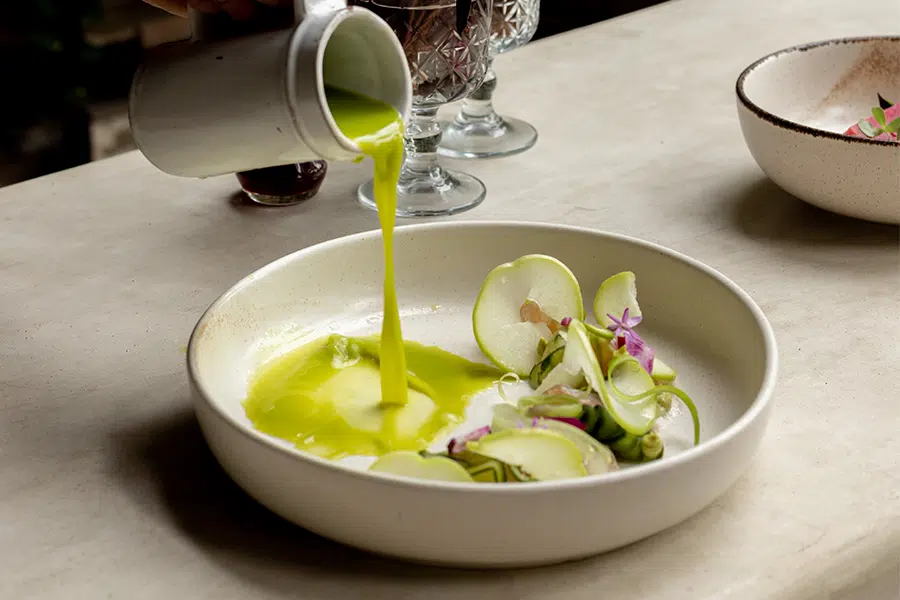 LEANDRO BULZZANO
Slow-cooking techniques and organic produce from local regenerative farm Mestiza de Indias take the lead at NÜ. Its gorgeous location, stunning bar, and sumptuous dishes lead guests on a gustatory journey through the region. Here, local ingredients, including winged beans, camote, and more, are also plated alongside the juiciest prawns. 
Hartwood 
Old-school Tulum reigns at Hartwood, where the menu is written on a single chalkboard. Centered on an open-fire kitchen, Hartwood serves the best of fresh meat, fish, roasted vegetables, and more. In fact, the region's cuisine is explored in their most authentic state. Cooked as is, and paired with excellent flavors and salsas. 
The Best Casual Food in Tulum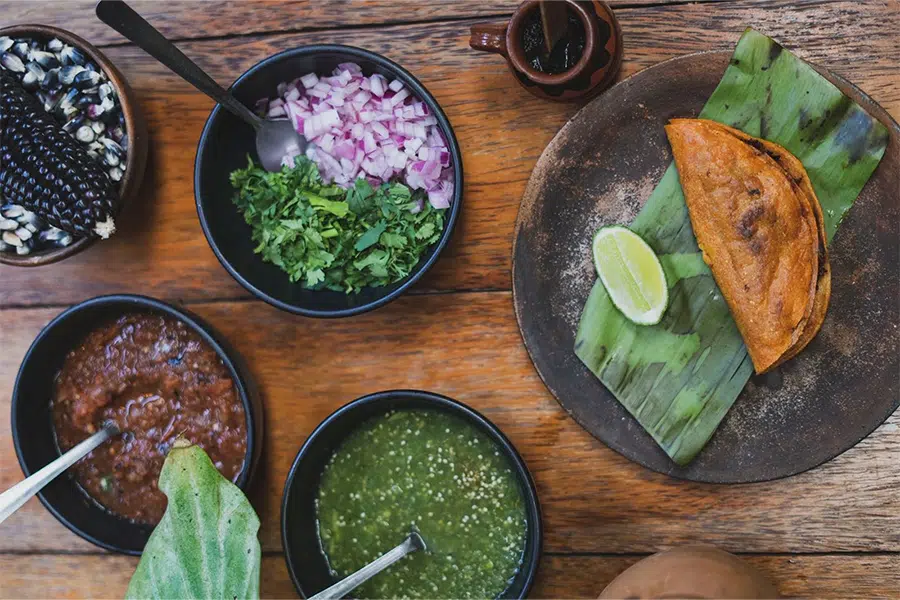 NEGRO HUITLACOCHE
Tulum's culinary variety ranges from beach food to vegan delights. Including Bowls de Guadalupe and Matcha Mama, along with evoking its Italian heritage at La Pizzine and Posada Margherita. And even offering village-style salsa dancing vibes at food-truck destination Palma Central (it's very fun on Tuesday nights). And like everywhere in Mexico, its Unesco-inscribed culinary heritage extends to the streets. With a chef coming from Azurmundi and Arca, Negro Huitlacoche (the brainchild of Alonso Lara) serves perhaps the best elotes, birria tacos, tamales, quesadillas, arroz con leche, and more. Known for its regional cochinita pibil tacos, another town staple, Taqueria Don Honorio, has even made it onto Netflix's Taco Chronicles. And when ready for rooftop drinks and artsy cultural café vibes, La Guarida (just steps away) is an ideal place for a nightcap.  
What to Do in Tulum
Backed by acres of lush tropical jungle and unobstructed views of the Caribbean Sea on the Yucatan peninsula, Tulum offers abundant intimate and exclusive experiences. From unique happenings within the hotel zone to thoughtfully curated expeditions by land and sea, visitors are encouraged to discover a variety of bespoke experiences in their own way. 
Beach Activities & Yachting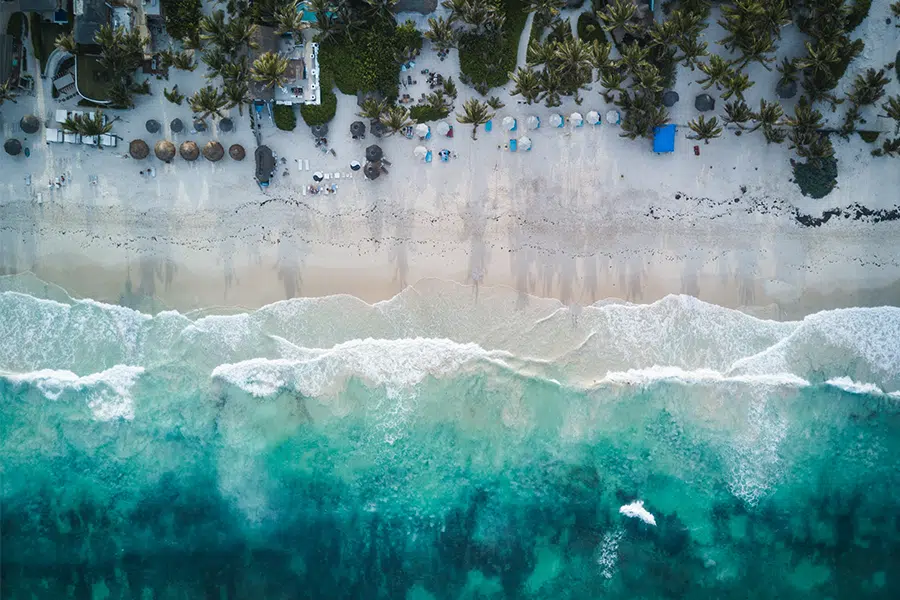 SPENCER WATSON / UNSPLASH
In fact, Tulum Beach is considered one of the best beaches in the world. Thanks to its calm sea and pearly white coastline. It also maintains a small-town vibe with a continuous stretch of beach that one can easily walk, hopping from hotel to beach club and bar with public entry. In addition, the beach in the Archeological Zone, known as Playa Paraiso, is one of the most beautiful portions of the sea, perfect for a dip after visiting the Tulum Ruins. While most hotels have spectacular beach views, true raw paradise is found in the Sian Ka'an natural reserve. In Mayan, it means "origin of the sky," and this stretch of land is indeed divine. 
Activities by sea range from small fishing boat tours through the mangroves to exploring the local fauna and lavish yachting. Todo Tulum, a local concierge agency, is the go-to when planning to get out onto the sea or organizing customized services at your villa with a unique array of offerings. 
Visit Ancient Ruins, Colonial Towns & Cenotes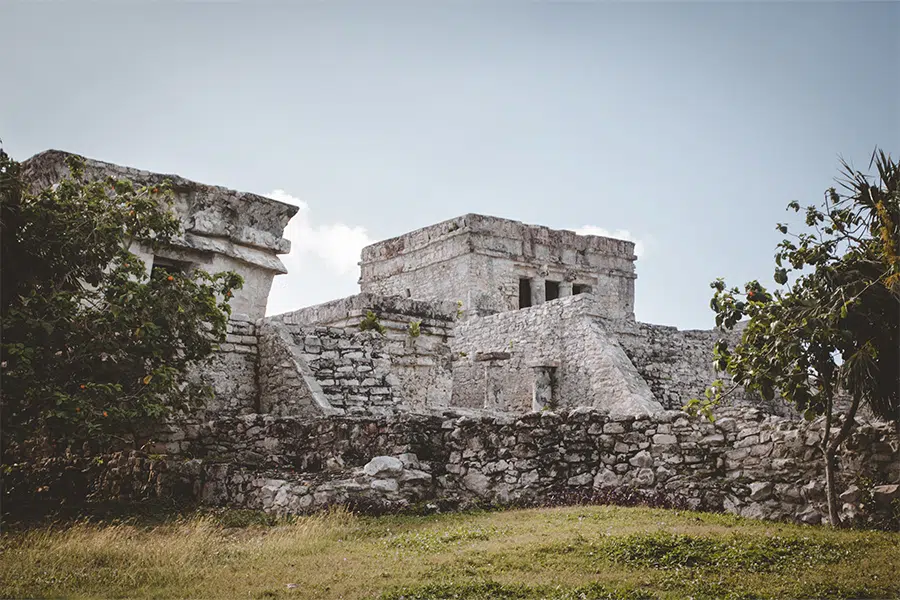 BRIANNA RA / UNSPLASH
When in the land of the ancient Mayans, get to know the locals by discovering the paths of civilization. Stop by the Tulum Ruins or enjoy an organized venture to Coba, Valladolid, or Chichen Itza. A day filled with history, local bites, and regional fauna and flora is well complemented with a swim in a freshwater cavern called a cenote. These natural wonders are scattered across the entire peninsula. Their deep blue and emerald colors make them look like something otherworldly. They have even appeared in many movies about extraterrestrials. Professional scuba and free diver NomaDan at Tulum Private Experiences offers personalized guides into secret cenotes and unknown locations in the region where one can enjoy them in an authentic state away from tourists and crowds.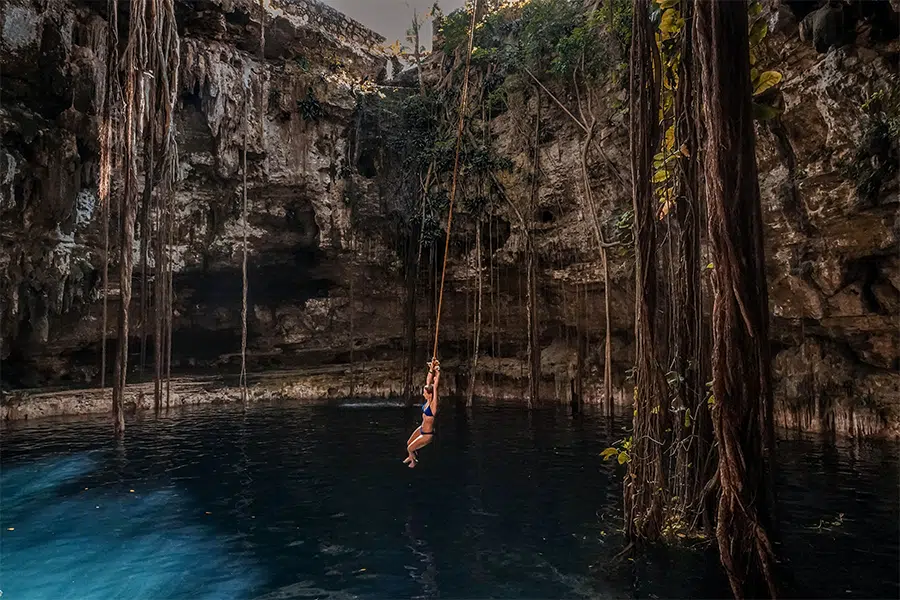 THE FREE BIRDS / UNSPLASH
Wellness 
The ancient Mayans were well-versed in alternative medicine, ceremonial therapy, and botany. Tulum's modern-day spa and wellness offerings are based on this ancient wisdom. Tulum has even been voted the yoga capital of the world. Today, La Valise Spa and Maya Spa are some of the best destinations for a truly authentic healing experience. The unique Bee Venom Experience at La Valise aids in anti-aging, skin care, and other benefits utilizing local melipona bees. Other regional practices include temazcal sweat lodges, cacao ceremonies, sound healing, mud baths, and more. Yoga, animal movement, and other physical exercise classes are available at Sanara, Holistika, Bardo, and just about every hotel across town. In addition, Tulum Wellness Concierge can organize on-site private classes, practices, and ceremonies. 
Music Festivals
Tulum is renowned for being the destination for various international music festivals. Zamna Festival, born in the town, is one of the year's most exciting events, taking place for several weeks at a time biannually. Other festivals include Day Zero, Afterlife, Storytellers Ibiza, and more. These all-night events reel in famous artists, including Nina Kraviz, Diplo, Calvin Harris, Monolink, Black Coffee, and more. 
The Best Nightlife in Tulum
Tulum is lit mainly by moonlight and candles when the sun goes down. Its spaces are conveniently filled with incense, most often copal, that works as a spatial cleanser, diffuser, and mosquito repellent. The town is known for its spiritual house music with deep rolling beats. Usually accredited to internationally acclaimed musicians, including Solomun and Rufus du Sol. It's mystic and poignant, a perfectly tender soundtrack that comes alive among the Mayan ruins and beneath hot, cloudless skies. The locals call it "Tuluminati." While various places host DJs and musicians along the international party circuit and festivals, including Zamna, others function as dinner clubs in the jungle.  
The scene is best lived out at Papaya Playa Project, serving both dinner and dancing until dawn at its tiered beachfront location, with psychedelic-style visual entertainment, most notably on Saturdays (but also other days of the week, especially during high season). For those looking for a more intimate hideaway in the jungle, Casa Jaguar is an atmospheric and sultry cocktail bar with epic Thursday evening parties. Fridays and Sundays are reserved for Treehouse. It's a guest-list-only mezcal bar with a tropical-meets-Scandinavian style and fantastic DJ sets from locals and internationals alike. 
Larger group settings, sparklers, and typically rowdy dinner parties are found at Bagatelle, Rosa Negra, Gitano, and Ilios. If you're looking for a night of "50 Best" mixed in with some disco and Latinx tunes, these are the spots to dance on the tables and live out the ultimate Tulum party dream. And still, as the official establishments close, Tulum's real party scene awakens in the jungle with private cenote parties, raves, festivals, villa soirées, and more.  
How to Get to Tulum 
Once a faraway hippy land of beach palapas and wonky Wi-Fi, Tulum is now one of the leading destinations for passengers arriving at Cancun International Airport, Latin America's third-busiest airport. While Tulum is just about an hour and a half south of the airport, Mexico's government has chosen to build it its own international airport, to be completed by the end of 2023. With the new airport and a Tren Maya project (train connecting the Riviera Maya) launching around the same time, Tulum will soon become a jungle metropolis. Meanwhile, the venture from Cancun to Tulum makes it worth the paradisiacal destination. 
In high season, you can sometimes wait for hours for customs clearance. Cancun VIP Fast Track offers an expedited landing and departure service through the airport. Including a separate VIP Lounge, on-site customs, and designated VIP Curbside pickup. Alquimavi is a trusted black car and personal security service often used by celebrities, high-end DJs, and other individuals visiting the region. Its discreet and impeccable service allows for a seamless trip from Cancun to your hotel or villa in Tulum. As well as on-location availability for local trips. 
The Best Time to Visit Tulum
Tulum's peak season starts at the end of December and lingers on until late March or even April. These are the sunniest months, with fair weather, beautiful seaweed-free beaches, and little to no rainfall. Most of the Tulum-specific events happen throughout this time. The town is especially bustling over New Year's Eve. And the first weeks of January, when people worldwide escape the cold in Tulum. 
The History of Tulum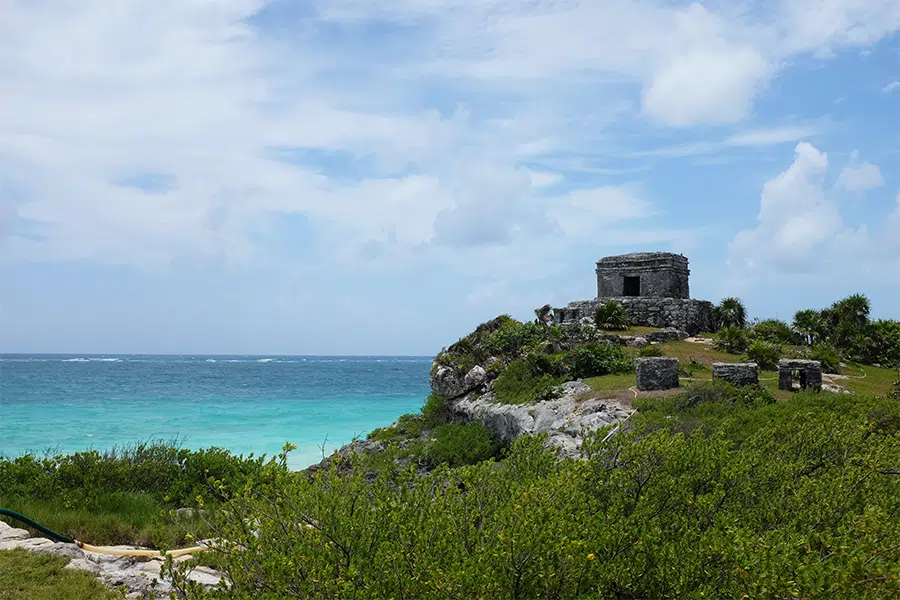 KAAN KOSEMEN / UNSPLASH
Tulum dates back to the ancient Mayan civilization, which was thought to occupy the peninsula. What was once a tiny fishing village turned into a critical city in the empire and the only one to be built as a sea fortress. Towering over the Caribbean, it was then named Zama ("the land of sunrise"). Known for the spectacular sunrises seen over its horizon. The name was later changed to Tulum, meaning "wall," thus turning it into a modern-day fortress of sunrises. The city was significant on the trade route, especially for its obsidian. As well as for its connection to the sacbe (white road) that connected the peninsula. Mayans also made the pilgrimage to Tulum to travel to Cozumel island by boat. Where they paid homage to goddess Ixchel. 
Tulum was then a land of agriculture. With almost all its citizens sowing corn (the primary food source for the ancient Mayans) and learning the skill of warriorhood, be it necessary. Those who lived in Tulum were also expected to make their sacred journey at least once during their lifetime to Chichen Itza, where the great pyramid of Kukulkan stands. While many ruins are scattered throughout the jungle, the main sites are Tulum, Muyil, Coba, Ek Balam, and Chichen Itza. They offer insight into the life of one of history's most advanced civilizations, the fruits of which the land reaps to this day. The Mayans were exceptionally skilled in botany and astronomy. Which lends to much of the spiritual leanings in Tulum, and artisanal craft, including woodworking, pottery, and embroidery.