Bulgari's jewelry is instantly recognizable. It frequently features yellow gold, colored gemstones, and intricate, sensual designs, such as the iconic Serpenti collection. Our guide to Bulgari jewelry takes you through its history and showcases its most important collections.
The History of Bulgari Jewelry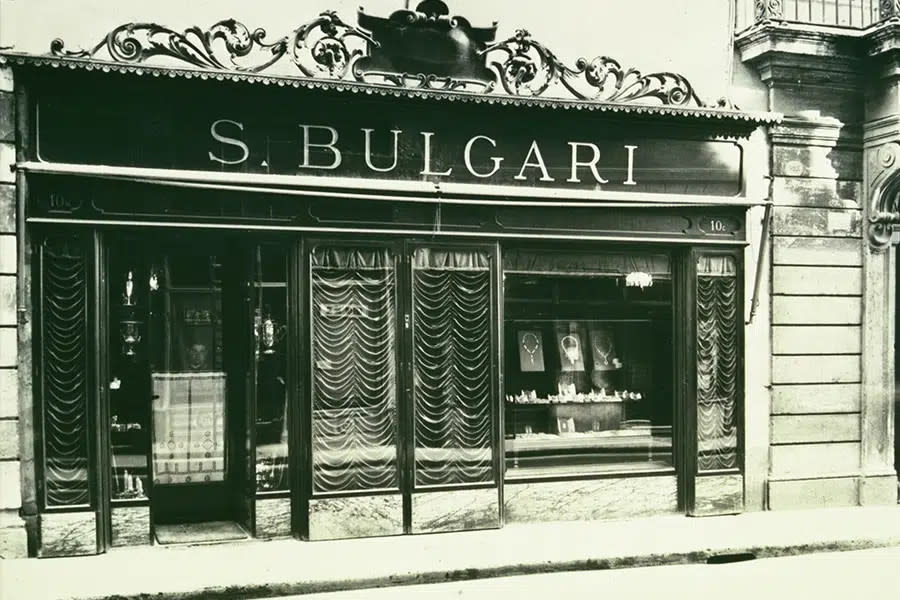 BULGARI
While you may know Bulgari as an Italian company closely associated with Rome, it was actually founded by a Greek silversmith, Sotirio Bulgari, who emigrated to Italy. He first opened a boutique in Rome in 1884, where he crafted beautiful silver designs. 
In the 1920s, he began making high jewelry. At first, he crafted pieces in classic French styles made fashionable by Boucheron, Cartier, and Van Cleef & Arpels. Later, in the 1940s, Bulgari started to embrace its Italian heritage. These pieces featured yellow gold, the tubogas design, and the famed Serpenti. However, it wasn't until the 1950s that Bulgari began to embrace its now-signature vibrant colors and cabochon gemstone stones. Now Bulgari embraces the Italian sense of la dolce vita through its exuberant jewelry designs.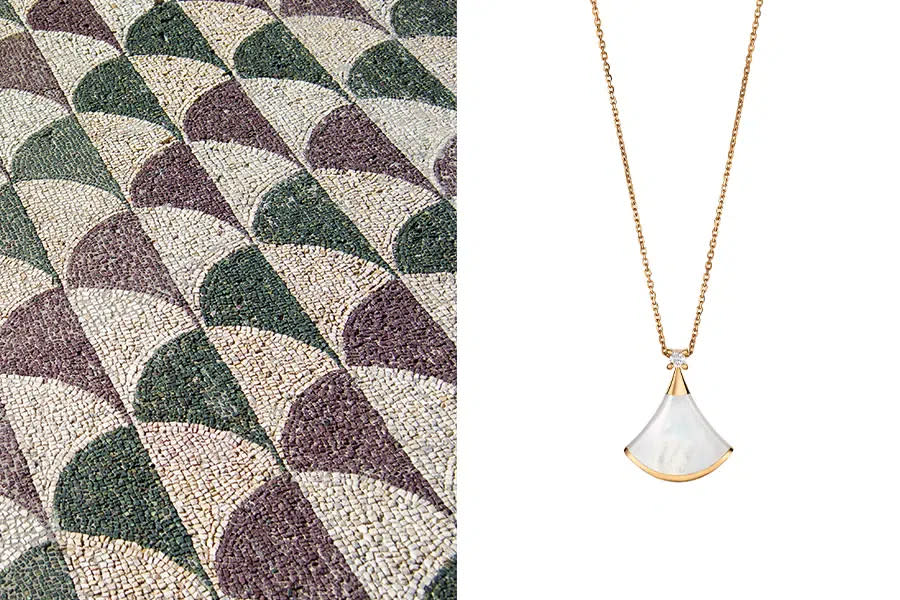 ANDREAS WOLOCHOW / SHUTTERSTOCK & BULGARI
Rome inspires many of Bulgari's pieces: geometric shapes that echo some of Rome's monuments, most iconic buildings, art, and architecture. For example, Bulgari's designers translate the city's cobblestone streets into incredible jewelry featuring patterns paved with gemstones. Or, the windows atop a church cupola could inspire the shape of a high-jewelry necklace. A prime example is the iconic Diva's Dream design, based on the elaborate floors of the stunning Caracalla Baths. Fan-shape mosaics cover the floors of these beautiful ruins. Some pieces are more literal than others. For instance, the Monete collection features actual antique Roman coins. 
In the 1970s, Bulgari opened in the US and the rest of Europe. Throughout the years, it expanded into watches, fragrances, eyewear, leather goods, accessories, and luxury hotels and restaurants. It also acquired many companies that manufactured these products in order to remain vertically integrated and to have full control over the quality and production. 
Serpenti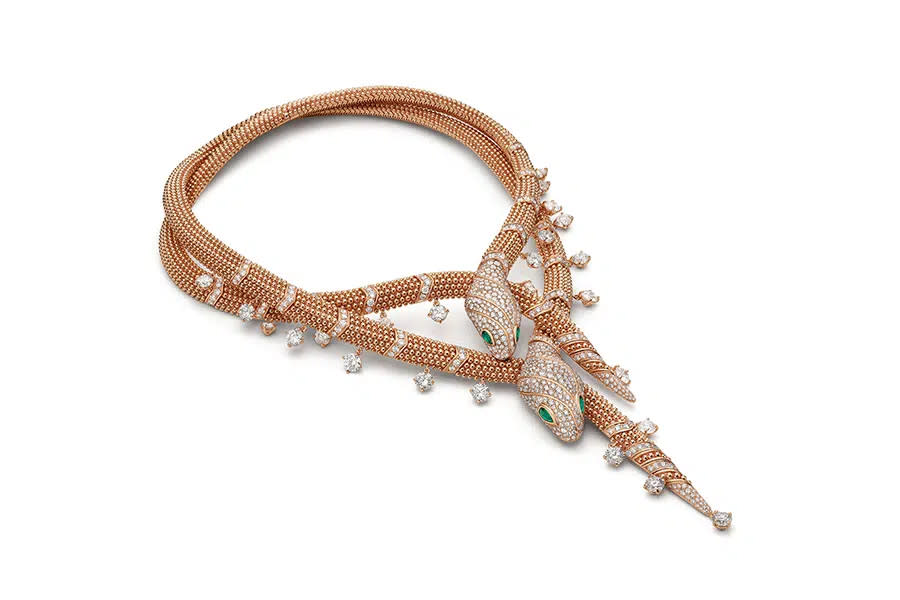 BULGARI
The snake is Bulgari's spirit animal. Ever since the 1940s, Bulgari's designers have crafted stunning jewelry featuring the slithering serpent. At first, it appeared in an abstract form in tubogas or gold mesh watches. These flexible bands wrap several times around the wearer's wrist, evoking a snake coiling around a tree branch.
In time, Bulgari created more lifelike pieces to accompany the abstract designs. These masterful creations might have enamel-coated or diamond-set scales with brightly colored gemstones for the eyes. Bulgari is also known for its Serpenti secret watches. Here, the snake's mouth opens to reveal a hidden watch dial.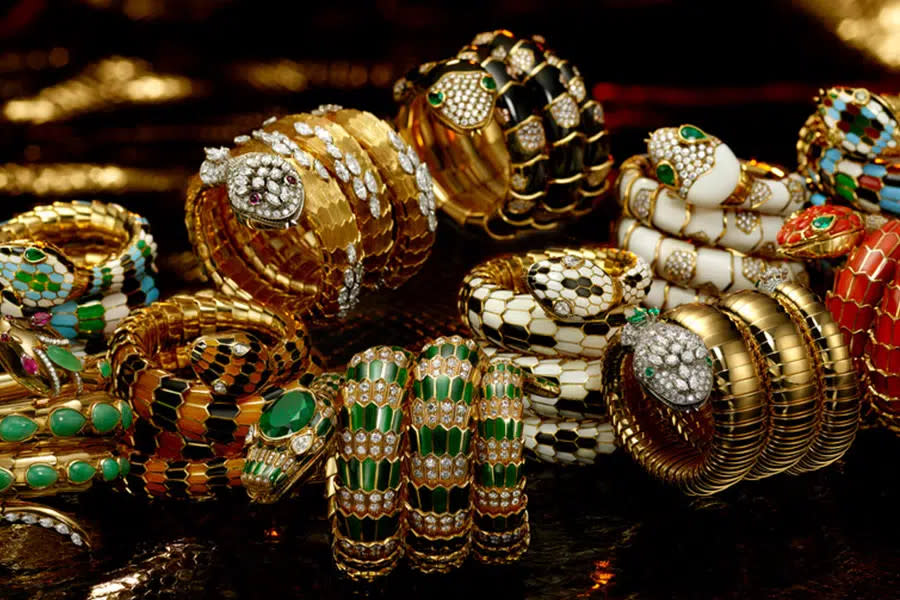 BULGARI
Today, Bulgari has several collections of stunning Serpenti jewelry. Diamond hexagons sometimes represent the scales in abstract, geometric pieces. Other times, designers faithfully re-create the nuances of the serpent's scales. 
The Serpenti Viper is an abstract interpretation of the slithering snake. It has geometric golden scales, sometimes topped with gemstone inserts. More glamorous pieces are fully paved with diamonds, while more everyday pieces feature green malachite, white mother-of-pearl, red carnelian, or black onyx.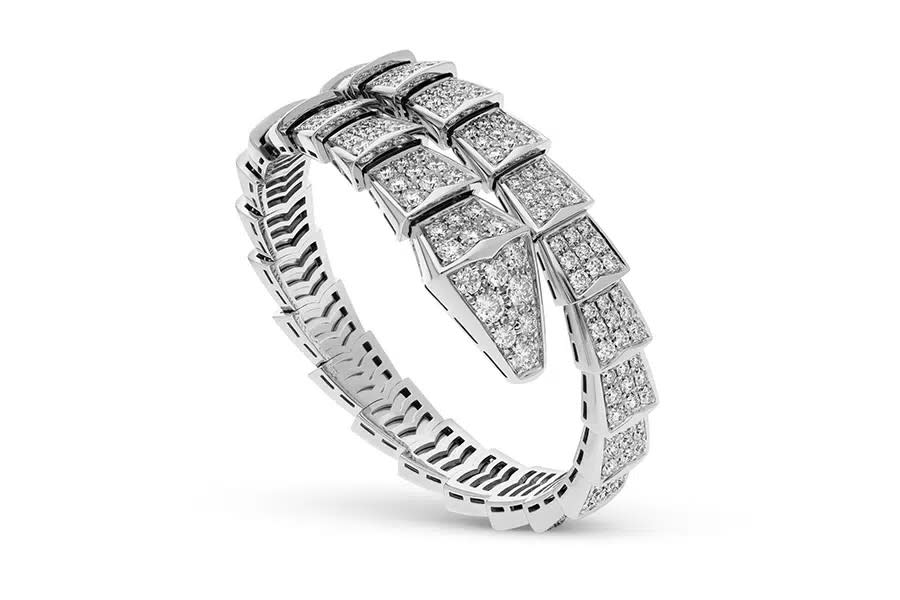 BULGARI
Serpenti Seduttori means "the seductive serpent." This collection features a more elegant snake and focuses on its mesmerizing eyes. Pieces have diamond pavé scales and emerald or rubellite eyes. 
Of course, there are plenty of tubogas jewelry pieces, such as a double spiral Serpenti ring and a single-spiral Serpenti bracelet. Both have pavé diamonds on the snake's head and tail. The Serpenti watch, including the triple-wrap version, is one of Bulgari's icons.
Bulgari's High Jewelry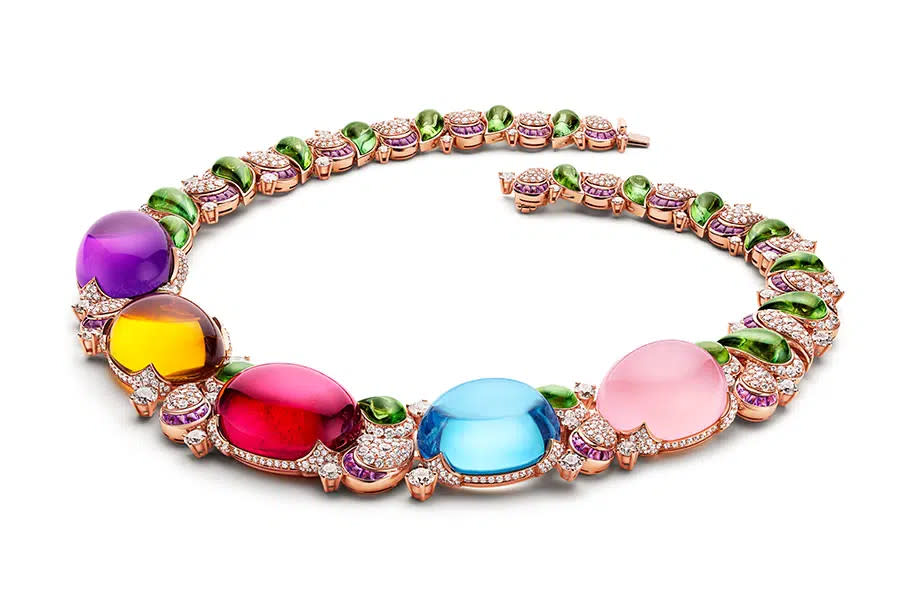 BULGARI
Twice a year, Bulgari unveils beautiful collections of high jewelry. These one-of-a-kind pieces celebrate the Italian sense of la dolce vita by embracing color and exuberant designs. Each piece is designed and handcrafted at Bulgari's ateliers in Rome. 
Unlike many French high-jewelry houses, whose jewelry follows traditional design codes and geometric patterns, Bulgari emphasizes color, curves, and all things Italian. Bulgari says each piece includes a bit of pazzia, which means "madness" in Italian. This sometimes mad combination of gemstones and design leads its designers to create fanciful pieces inspired by unexpected things, like candy or ice cream.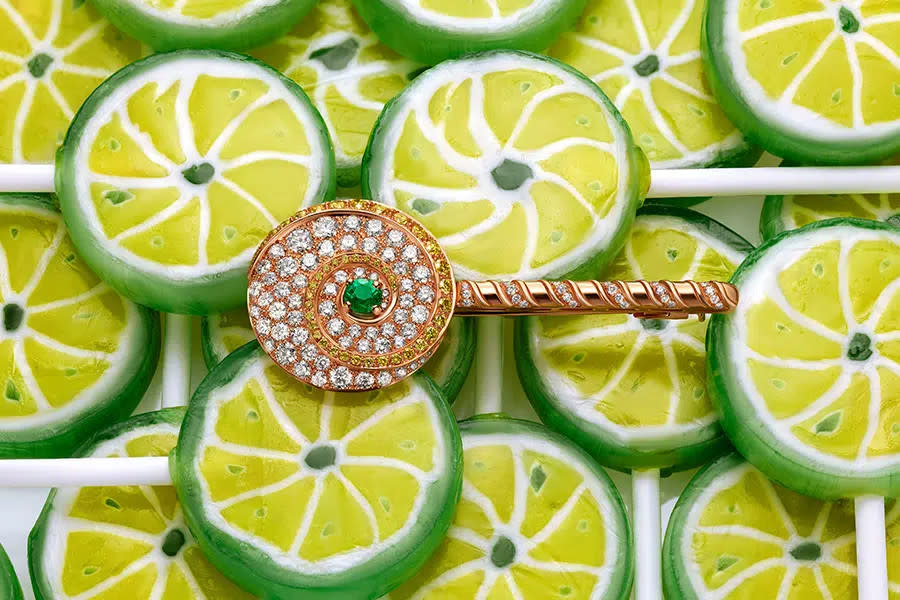 BULGARI
But most of the time, the beauty of Rome and the featured gemstones are what come through in the pieces. Bulgari is known for its use of cabochons. These curved stones are polished, not faceted, and evoke the curves of Rome's domed architecture. 
Bulgari's latest collection, Magnifica, includes 350 sensational pieces of high jewelry and high-jewelry watches. It is, to date, the most expensive collection that Bulgari has ever created, valued at hundreds of millions of Euros. In addition to pieces that celebrate the Eternal City, there are several pieces designed around exceptional stones. One necklace features a 131.24-carat spinel — the fourth-largest spinel ever found. Another piece showcases a 93-carat cabochon Colombian emerald placed within the jaws of Bulgari's famed Serpenti. Of course, there are plenty of colors, too. Standout pieces feature rainbows of cabochon gemstones set in intricate designs. 
B.zero1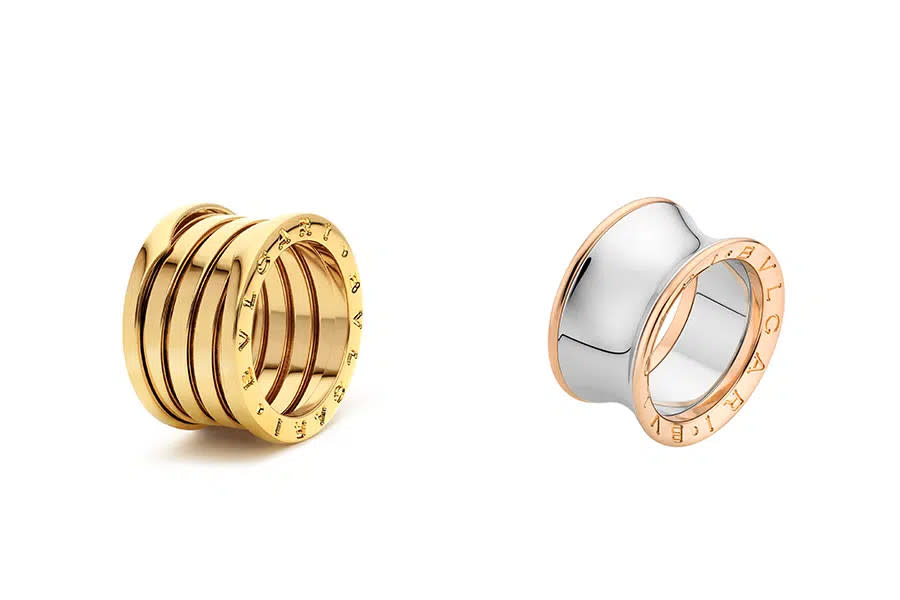 BULGARI
The ultra-contemporary B.zero1 collection reinterprets the curving, oval structure of Rome's most famous building: the Colosseum. The design also includes two of Bulgari's icons: The coils of the tubogas design represent the Colosseum, and Bulgari's double logo is engraved on the top and bottom of each piece. The collection debuted in 1999 as an ode to the new millennium — zero.1 means "infinite beginnings." 
Several artists and visionaries have contributed unique designs to the B.zero1 collection, including sculptor Anish Kapoor in 2010 and legendary architect and designer Zaha Hadid in 2017. Hadid created the B.zero1 Design Legend collection. She reinterpreted the solid structure of the original pieces by transforming the connected spirals of gold into intertwining, fluid shapes with an open design.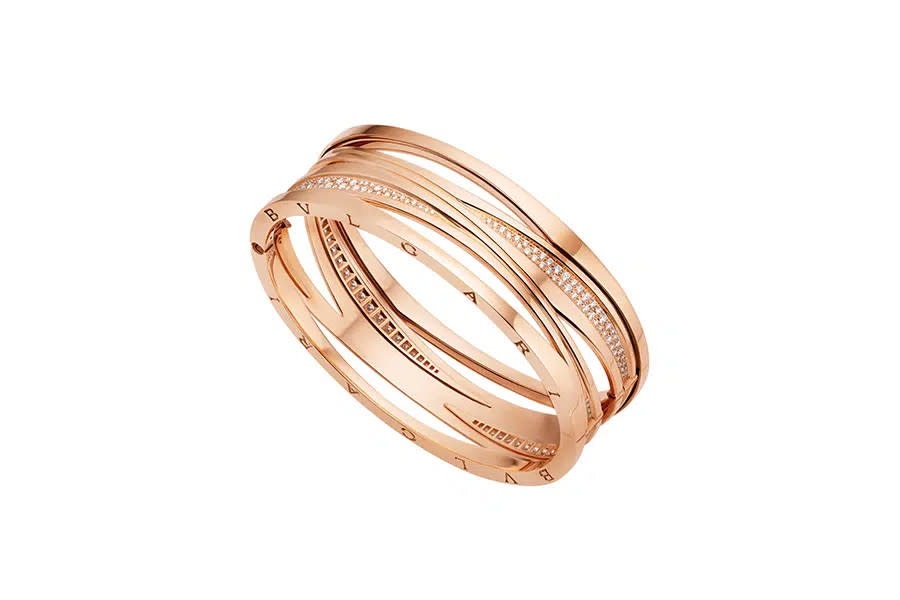 BULGARI
Today, there are several designs within the B.zero1 collection. The modern B.zero1 Rock collection features studs instead of smooth coils, giving it a rock-and-roll edge. Diamonds or black onyx inserts add to the drama. The Perfect Mistake pieces feature yellow, rose, and white gold together. This design was actually a prototype for the original collection that was never produced. Bulgari calls the mix of metals a "perfect mistake." 
Standout pieces from the B.zero 1 collection include the B.zero Design Legend bracelet with diamonds, the five-band B.zero1 XXth Anniversary ring in 18K rose gold, and the B.zero1 Rock four-band ring in 18K yellow gold with pavé diamonds. 
Divas' Dream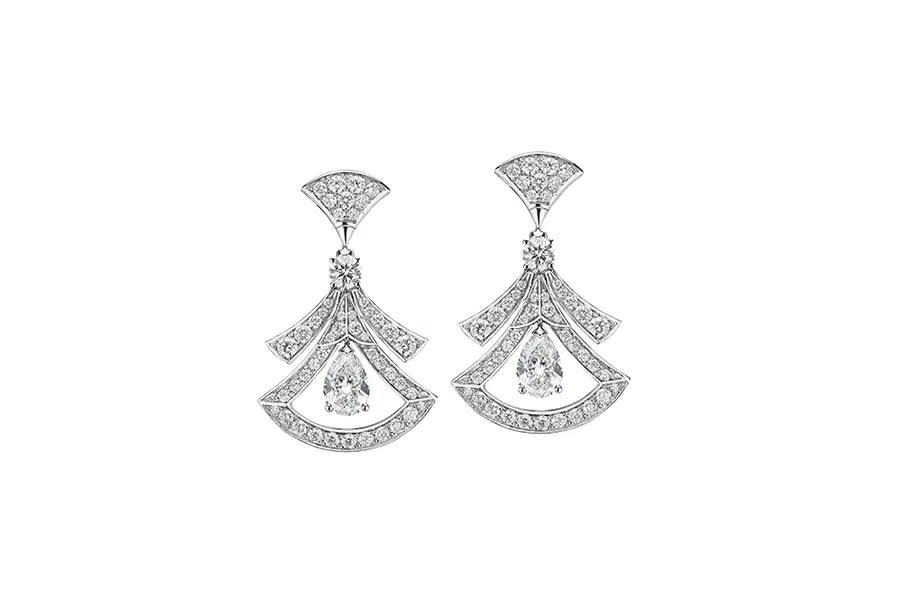 BULGARI
This delicate collection features fan-shaped motifs inspired by the mosaics at Rome's Caracalla Baths. The collection includes earrings, pendants, and bracelets, as well as curling double-fan rings and cuffs that echo the Serpenti. Some openwork pieces place large gemstones at the center of the fan, while others use semi-precious gemstones or pavé diamonds and sapphires to add color and sparkle. The Divas' Dream motif also appears in Bulgari's high-jewelry collections. 
Fiorever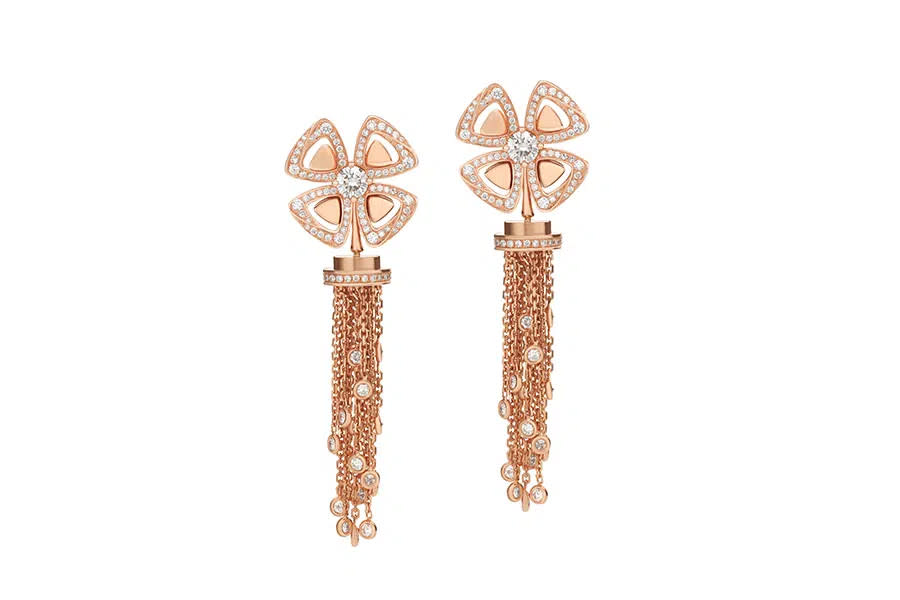 BULGARI
Flowers are a perennial inspiration for Bulgari. Its designers have crafted beautiful floral jewelry for decades. The name Fiorever is a portmanteau of "forever" and the Italian word for flower, fiore. These eternal flowers have petals rendered in precious metals and stones. Frequently, the Fiorever flowers come in white or rose gold with diamond accents. Sometimes, Bulgari places colored gemstones or fancy-colored diamonds at the center of the flower for a special touch. Each flower has four petals, a  motif that was an important symbol of happiness for ancient Romans.
Monete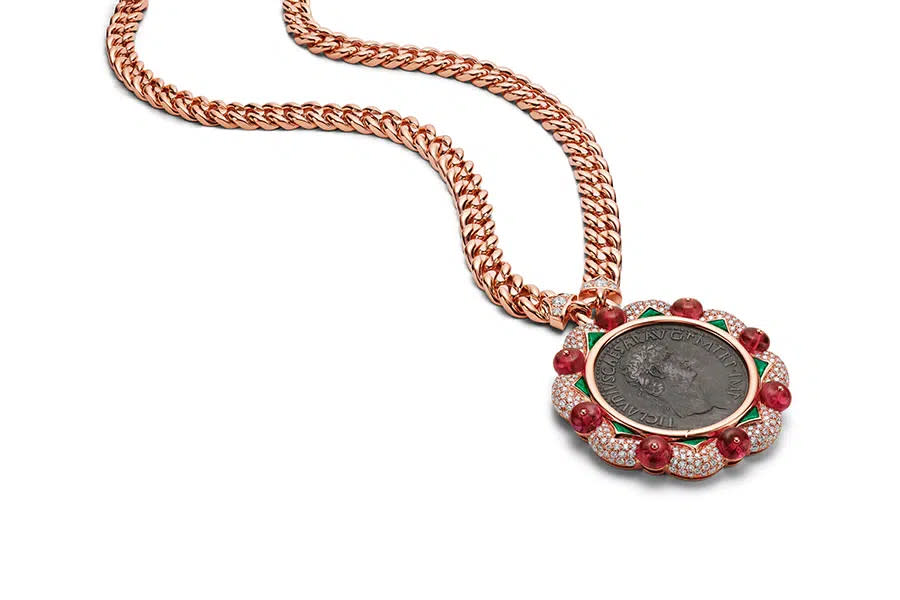 BULGARI
The most Roman of all of Bulgari's jewelry collections, Monete pieces feature ancient Roman coins. Each of these original coins has unique, imperfect shapes, and the settings faithfully follow their curves. Bulgari first used coins in the 1950s, and today it has a full collection of easy-to-wear pieces that showcase the beauty of these artifacts. 
Tubogas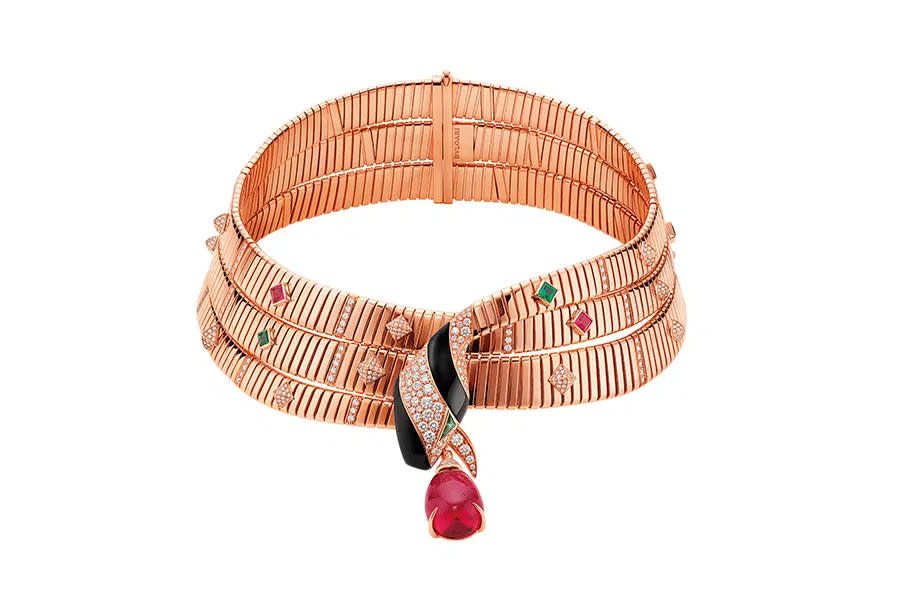 BULGARI
The tubogas design is a signature element of many Serpenti timepieces and jewels and is also an important part of Bulgari's history. This flexible metal design features rounded bands that stretch and snap back into shape. Today, you can find Bulgari Tubogas jewelry at retail in the Serpenti collection, such as this Serpenti ring and this bracelet. Bulgari's Tubogas jewelry pieces are sought after by vintage collectors, too. You can find Tubogas pieces at auction, online at vintage specialists like 1stDibs, and in vintage jewelry boutiques.
Bulgari's Flagship Boutique in Rome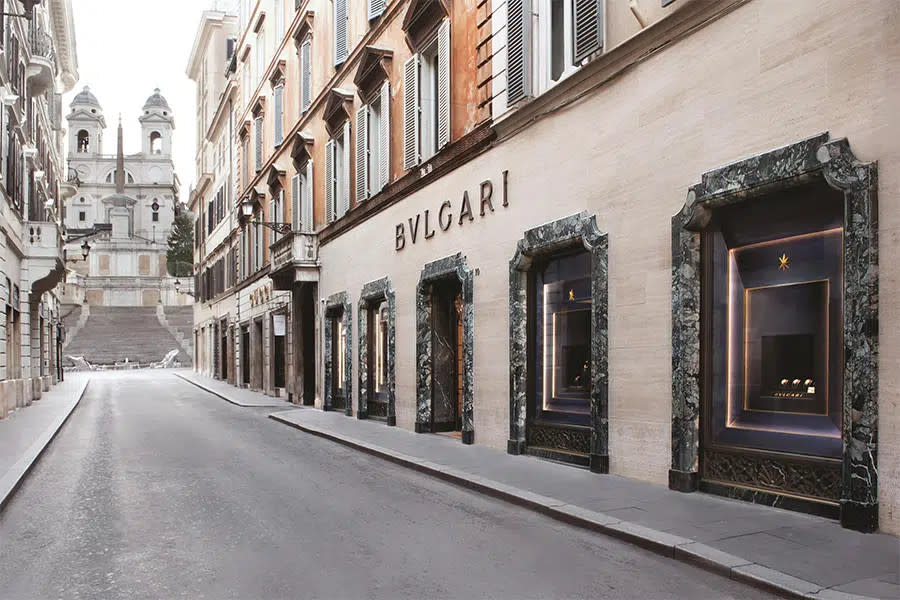 BULGARI
Bulgari's flagship boutique at Via Condotti 10 in Rome opened in 1905. In 1933, Italian architect Florestano Di Fausto designed the boutique as we know it today by adding a travertine façade with a central doorway and four display windows surrounded by green African marble cornices. Di Fausto also replaced the brand's name with letters inspired by ancient Roman script. This eventually inspired the modern Bulgari logo. 
The boutique is located near the Spanish Steps, a perennial source of inspiration for Bulgari's designers. When the house celebrated its 130th anniversary, Bulgari supported the iconic travertine steps' renovation and renovated the boutique — this time, by famed American architect Peter Marino.
Hollywood celebrities, most notably Elizabeth Taylor, frequently visited the boutique in the 1950s and 1960s. Taylor actually visited so frequently that Bulgari named one of the private rooms after her. Within her room, Salottini Taylor, a hidden door leads to a private courtyard. In the '60s, Taylor would avoid the paparazzi by using this secret door. 
Lucia Silvestri, Bulgari's Jewelry Creative Director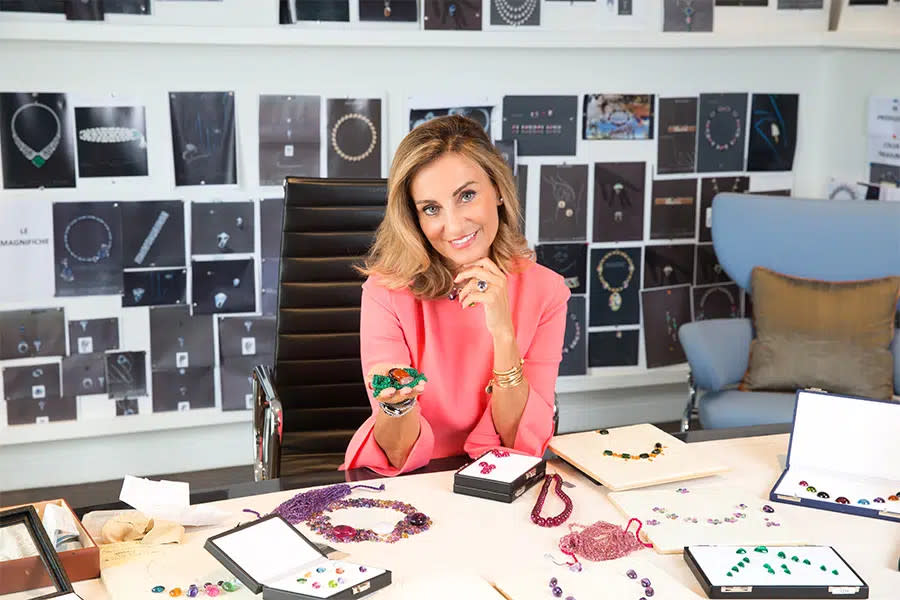 BULGARI
In 2013, Lucia Silvestri became Bulgari's Jewelry Creative Director. Silvestri has worked at Bulgari since she was 18 years old. Before becoming the Jewelry Creative Director, she spent years sourcing exquisite gemstones from around the world. Today, her collections draw on her deep relationships with the Bulgari family, as well as her exceptional knowledge of colored gemstones. When working with color, Silvestri begins her design process by finding the perfect stone. Then, she designs the pieces around the gemstone. When creating all-diamond pieces, she comes up with a design and sources the diamonds to fit her vision.
Bulgari's Jewelry Craftsmanship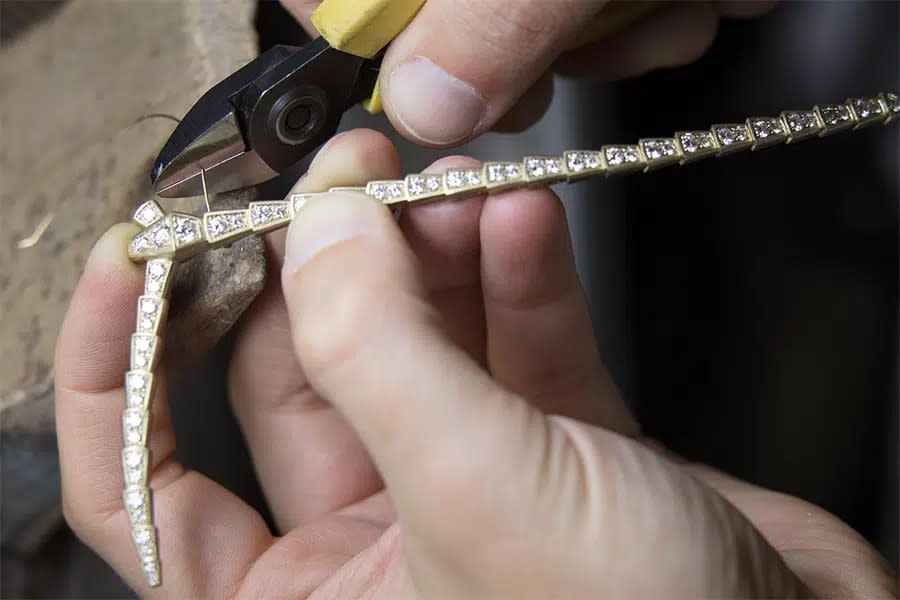 BULGARI
Bulgari crafts its fine jewelry at its manufacture in Valenza, Italy. It is the largest jewelry manufacture in Europe, employing more than 700 artisans. However, its artisans and Silvestri, continue to design and handcraft Bulgari's high-jewelry collections in Rome.