Learn about the legendary Maharaja of Patiala and his exceptional jewelry collection, which inspired the name of this site.
In the fabulous world of high jewelry, stories of record-setting gemstones, extravagant suites of jewelry, and large entourages are practically commonplace. However, some stories are so fantastic and over-the-top that they become the stuff of legend. In the 1920s, the Maharaja of Patiala, Sir Bhupinder Singh, cemented his place in history with his extravagant pursuit of luxury. 
He visited London and Paris several times to acquire jewelry, fine suits, a fleet of Rolls-Royce cars, and more. The New York Times chronicled some of his exploits, saying, "The Maharajah of Patiala, India, who has been startling Europe with his display of wealth and luxury, is of the old school of benevolent despots. When in London recently he used an entire floor of the Savoy Hotel and lived like a Sultan in a fairy tale, surrounded by everything money could buy." Stories abound of his procession of 20 cars, clothes "studded with jewels," and luggage totaling 320 trunks (120 of which were acquired in London and filled, presumably, with new purchases). 
In the 1920s, he placed not one but two of the most spectacular jewelry orders of all time. He was rumored to have $5 million worth of precious gemstones with him, and in total, the crown jewels filled 20 trunks, each with its own security. 
First, he went to Cartier, or, rather, he had Cartier come to him — at Hôtel Claridge on the Champs-Élysées to discuss a special jewelry commission. A Cartier specialist opened a box and discovered that it was filled to the brim with the finest and rarest gemstones. The Maharaja wanted Cartier to use its French savoir-faire to create a contemporary collection of jewelry using his gemstones. According to Francesca Cartier Brickell, author of The Cartiers: The Untold Story of the Family Behind the Jewelry Empire, it took three years to complete the collection, which was staggering in its opulence and size.
After the Maharaja's death, the necklace passed to his son and remained part of the Patiala royal collection. When India gained its independence from England in 1948, the necklace mysteriously disappeared from the treasury and no trace of it was found for decades. It did ultimately resurface, but it was broken down into several pieces, likely to prevent detection. However, with a piece this spectacular, it was impossible to remain under the radar. First, the De Beers diamond went up for auction at Sotheby's in 1982, where it sold for around $3 million, but the rest of the necklace was unaccounted for. Then, in 1998, a Cartier employee discovered part of the necklace — without the most significant stones — at an antiques shop in London. Cartier re-created the masterpiece with replica stones. It simply would have been too expensive to use actual diamonds, which is a testament to how sensational the original necklace was.
BOUCHERON
His second record-breaking order took place in August 1928, when he traveled to Paris from India with a retinue of security guards and staff, taking over 35 suites at the Ritz Paris. On August 2, he walked across Place Vendôme from the Ritz Paris to the historic Boucheron maison. His guards carried several iron safes full of precious gemstones, including rubies, emeralds, pearls, and, of course, diamonds. After examining the stones, Boucheron selected 7,571 diamonds, 1,432 emeralds, and other gemstones to use in a spectacular collection of 149 pieces of one-of-a-kind jewelry. 
Both Cartier and Boucheron blended Indian and Art Deco jewelry styles in these magnificent pieces. Boucheron's Creative Director, Claire Choisne, describes it as a "more organic" type of Art Deco. The pieces aren't as linear but have a softness to them, and they retain the hallmarks of Indian jewelry. 
Over the years, these memories faded and became lost in the archives. As a jewelry expert, I am fascinated by stories like the Maharaja's. When I first came across his name on the Boucheron website several years ago while conducting research for an article, I could not believe how incredible the story was — and that no one seemed to know about it. I became instantly obsessed with it, to the point of tracking down one of his granddaughters, Jyotsna "Joey" Singh, to interview her about his jewelry collection and fabulous life. His quest for the absolute pinnacle of luxury — in addition to his willingness to cross long distances and embrace new ideas and techniques — was enthralling and ahead of his time.
I began to call his jewelry collection — both the Boucheron pieces and the infamous Patiala necklace — "la collection Patiala." As I told my friends and colleagues fabulous tales of high jewelry, spectacular gemstones, and incredible collections, they, too, could not believe the story of the Maharaja and his insatiable appetite for luxury. When the time came to name my new venture, the luxury encyclopedia, I chose to name it La Patiala in honor of his story and jewelry collection. The name serves as a calling card to those in the know — and also reminds me that the encyclopedia is a collection of fantastic stories meant to educate and inspire readers to chase the best, no matter where they are.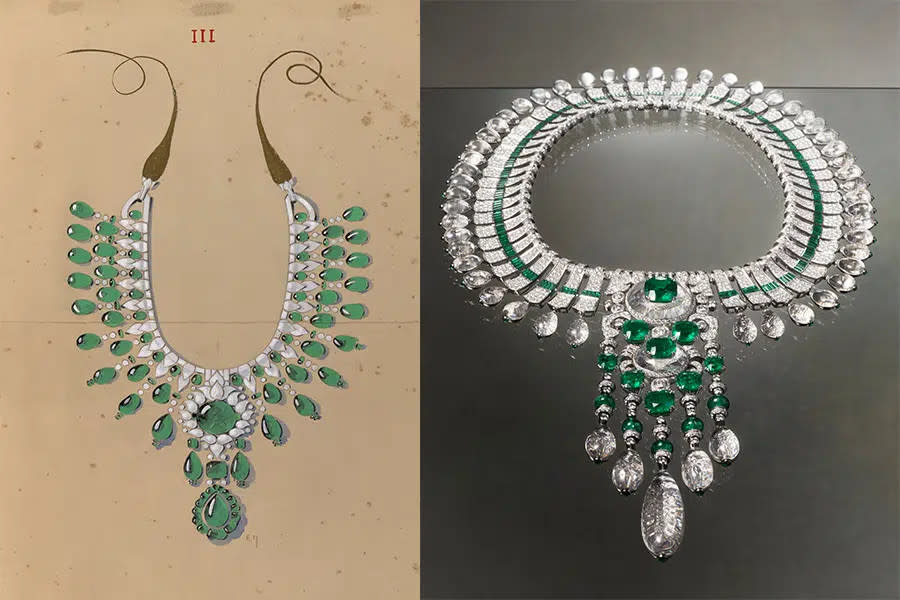 BOUCHERON
In recent years, there has been a resurgence of interest around the Maharaja, with several exhibitions of Indian jewelry at prestigious museums in the US, in addition to the Maharajas & Mughal Magnificence auction at Christie's in 2019, all of which included pieces from his immense collection. 
In January 2022, Boucheron unveiled a new high-jewelry collection inspired by the Maharaja's legendary order, Histoire de Style: New Maharajahs. The collection was designed by Choisne, who is renowned for her artistic and modern interpretations of Boucheron's archives, as well as her penchant for unusual materials and designs. 
Choisne told me that before joining Boucheron she had heard whispers of the Maharaja's legendary order, but not the details. "When I joined Boucheron 10 years ago, I think it was the first story that everybody told me. Obviously, it was the biggest one," she said. "It's a fairy tale, and it's totally amazing. Of course, when I looked at the archives to have a global vision of the Boucheron style, I couldn't miss the Maharaja designs. They were totally impressive… I was totally fascinated by the story and by the pieces." 
When asked what the special order from the Maharaja meant to Boucheron, she laughs and says it is a fantasy come true, almost unbelievable. "The fact that the Maharaja opened the door of Boucheron with guards with cases of stones… It was one time. We never saw this again anywhere on Place Vendôme. It's really a one-of-a-kind story. It's a fairy tale but in a strong way," she said. "I would love it if a maharaja or someone comes from the Ritz, pushes the door of Boucheron, and asks me to do something like that. It would be magical, but I don't think it will happen again." 
His granddaughter agrees that his life is straight out of a book. "It's like a fairy tale because it's a different era. Things were very different in those days. Even though the British were in India, they still led their lives in palaces with all of the opulence that you would read about in books," she tells me. "When my mother was alive, she would tell us a lot of those stories." She reminisces about the grandeur, the motorcades, the stories of extravagance, but she notes he was also remembered for his kindness and that he loved his family. 
As his story has begun to be told again, she has taken up the mantle of being the caretaker of his legacy. And it was his jewelry that drew her in. When an exhibition featuring some of his pieces came to the Asian Art Museum in San Francisco near where she lived, she would visit every week. "The jewelry really got me into it," she says. "He's been a great source of inspiration for me." After a career working at Levi Strauss, she pivoted to become a jewelry designer. The pieces are inspired by India and his collection, but at a much more accessible price point, as the collection primarily focuses on semiprecious gemstones and silver. "It was very easy for me to just incorporate some of those design aesthetics into the jewelry that I was making. So, it had a slight Eastern Royal look, but in a more contemporary way." Museums hosting exhibitions of jewelry from maharajas have even commissioned collections of her jewelry to sell at their gift shops. 
It's fitting that La Patiala formally launches today, the same day that Boucheron unveiled a new high-jewelry collection inspired by his legendary order. It took nearly a century, but the Maharaja of Patiala's legacy has returned to its rightful place in the spotlight, ready to inspire a new generation, wherever they may be.